Nissan has strengthened its partnership with e.dams by purchasing a stake in the championship-winning racing organization. That happens ahead of Nissan's debut in the ABB FIA Formula E electric street-racing championship.
Nissan is joining Formula E as the first Japanese carmaker to participate in the innovative series. The carmaker is a global leader in electric cars. More than 350,000 Nissan LEAF vehicles have been sold until now. Nissan's Formula E program will show a new "performance side" of Nissan Intelligent Mobility. That is the company's vision for changing how cars are powered, driven and integrated into society.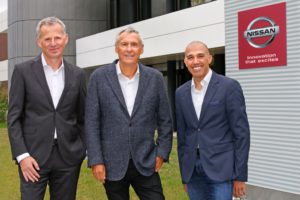 The e.dams organization emerged from DAMS
The company's base is in Le Mans, France. It's been a leading contender in European open-wheel and sports car competition for more than 30 years. Meanwhile, the previous partnership of e.dams was with Nissan's alliance partner Renault. That equipe won the Team Championship in the first three seasons of Formula E. It also holds records for most wins and pole positions.
"For Nissan's first Formula E experience, it makes sense to partner with e.dams and be able to draw on the organization's experience of winning races and championships," said Roel de Vries, Nissan corporate vice president and global head of marketing and brand strategy. "The level of competition in Formula E will get even more intense for season five, with a series-mandated all-new car and powertrain. As part of our commitment to our partnership, Nissan has now purchased an ownership stake in the organization, and we're excited to work with Jean-Paul and his team."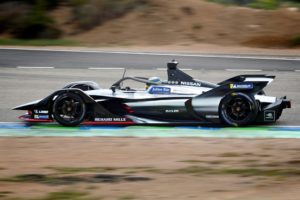 "With our new partner Nissan, we're eagerly awaiting the new challenges ahead. We're very proud of our history in Formula E, and we're looking forward to adding new pages to the series' history books with our new partner and the new car", said co-founder Jean-Paul Driot.
Nissan and e.dams have begun testing the all-new "Gen2" Formula E car. It provides more power and range and eliminates the need for the midrace car swap which was a feature of Formula E during the first four seasons. Nissan presented its colouring scheme at the Geneva Motor Show while preparations for Season 5 began later. Meanwhile, actress Margot Robbie participates as a global ambassador of the brand.
Teamwork makes the dream work! Testing continues as we prepare for our @FIAFormulaE debut in season five starting in December. #NissanFormulaE #FormulaE pic.twitter.com/ON4Loz4TTR

— Nissan Australia (@Nissan_Aus) September 11, 2018