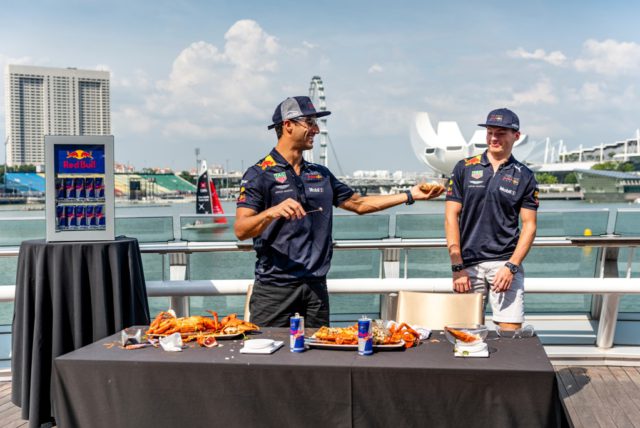 Max Verstappen had to dig deep in Singapore to overcome his dislike of seafood in the latest Dine and Whine challenge. Meanwhile, Daniel Ricciardo was his usual smiley self during the challenge.
Last year saw Verstappen and Ricciardo break open South East Asia's noxious-smelling delicacy durian fruit. This time around, the duo had an altogether different task at Marina Bay. It included chilli crab's base ingredient mud crab chosen as their challenge.
Street circuit smiles ? Up and running at Marina Bay ??? #SingaporeGP pic.twitter.com/CNpFgJyngF

— Red Bull Racing (@redbullracing) September 14, 2018
First durian, now crabs – Red Bull does not let its drivers Daniel Ricciardo and Max Verstappen to rest
After resisting the urge to fill a bucket when faced with the durian fruit, Verstappen faced another big test as his dislike of seafood is well known in the team.
Both drivers were fitted with a pair of gloves and goggles, then charged with extracting as much meat as possible from the mud crab to win this latest test.
How to do the Lion City right ??? Your #SingaporeGP check list ✅ #F1NightRace pic.twitter.com/azYxSgAmgT

— Red Bull Racing (@redbullracing) September 13, 2018
As expected Verstappen turned a deep shade of green, while Ricciardo wielded his hammer with gleeful abandon to smash through the claws and legs in front of him.
Crackin' up ahead of the #SingaporeGP ?? Getting our claws into Singapore ?? https://t.co/fnq416IUwC #F1 pic.twitter.com/oPKB16lb39

— Red Bull Racing (@redbullracing) September 13, 2018
photos: Chee Boon Pin/Red Bull Content Pool