Ford is celebrating the production of its 10 millionth Mustang – America's best-selling sports car of the last 50 years and the world's best-selling sports car three years straight.
The 10 millionth Ford Mustang is a high-tech, 460 horsepower 2019 Wimbledon White GT V8 six-speed manual convertible. It has the latest driver assist technology. The car was built at Ford's Flat Rock Assembly Plant in Michigan. The first serialised Mustang (VIN 001) was produced in 1964. It was the same colour and model with a three-speed manual transmission and 164 horsepower V8.
"Mustang is the heart and soul of this company and a favourite around the world," said Jim Farley, president of global markets, Ford Motor Company. "I get the same thrill seeing a Mustang roll down a street in Detroit, London or Beijing that I felt when I bought my first car – a 1966 Mustang coupe that I drove across the country as a teenager. Mustang is a smile-maker in any language."
Ford is celebrating the milestone at its Dearborn headquarters and its Flat Rock Assembly Plant, U.S. The celebrations include flyovers from three WWII-era P-51 Mustang fighter planes and Mustangs produced for more than five decades parading from Dearborn to Flat Rock, where the Mustang currently is manufactured.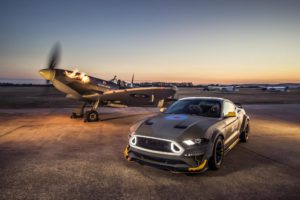 Mustang is America's best-selling sports car over the last 50 years
That is based on Ford analysis of 1966-2018 total U.S. new vehicle cumulative registrations. The analysis covers all sports car segments supplied by IHS Markit.
Ford has sold more than 38,000 Mustangs across Europe since 2016.
Last year, Mustang outsold the Porsche 911 in 13 European markets, including the U.K. and Spain. The leading five European markets for Mustang sales in 2017 were Germany, the U.K., France, Belgium, and Sweden. In 2017, Mustang GT was the best-selling V8 sports car in the UK, with over 1,500 sold.
Announced earlier this year, the special edition Ford Mustang Bullitt celebrates the 50th anniversary of the legendary Warner Bros. film. Bullitt has the enhanced 5.0-litre V8 engine. It has now sold out its special edition production run for the year in the UK. Vehicles are due to arrive later this year.
In addition, the one-of-a-kind Eagle Squadron Mustang GT raised $420,000 at the recent charity auction for the Experimental Aircraft Association's youth aviation education programs. Vaughn Gittin Jr. drove it on the Goodwood Festival of Speed Hill Climb.