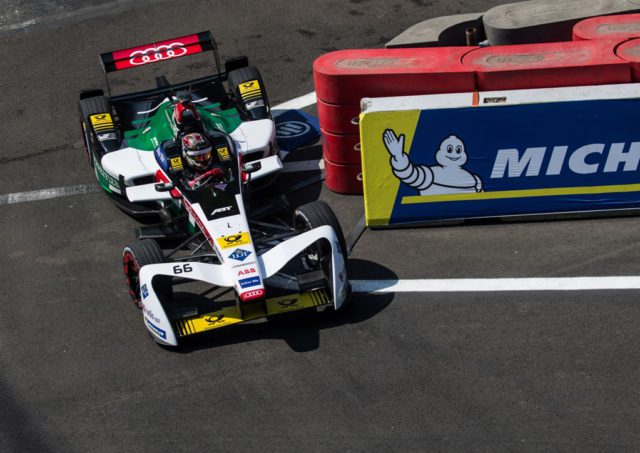 Seemingly trailing behind after the first third of the season and now the new champion following a gripping season finale: with focused work, team spirit and unbroken motivation, Audi Sport ABT Schaeffler managed an impressive fightback in the ABB FIA Formula E Championship. The journey to the first teams' title with a total of 264 points was marked by many emotional highs and lows.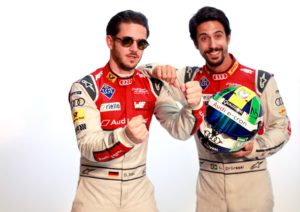 Daniel Abt and Lucas di Grassi start the season with a dramatic emotional roller coaster
In the opening race in Hong Kong, his first appearance in car number one, di Grassi scores no points following a collision. Abt is on course for a podium result until a problem, while starting the second car, costs him 20 seconds. The points for fifth place are a cold consolation. Afterwards, everything seems to be back on track: Daniel Abt, on his 25th birthday, scores a commanding victory which he lost again that night due to an administrative mistake of his team – an error that gave no performance advantage. Lucas di Grassi stops due to a faulty alarm in the battery management system of his car.
Head of Audi Motorsport Dieter Gass:
"We had strong race pace on both days. But it goes without saying that we had a somewhat different idea of the season opener."
Techeetah: 33 points/Audi Sport ABT Schaeffler: 11 points
The team takes home a single point from Formula E's visit to Marrakesh. Daniel Abt and Lucas di Grassi, on setting the best times in all of the free practice sessions, once again prove the speed of the Audi e-tron FE04, but lack fortune in the race: Abt drops to tenth following a drive-through penalty and his teammate is lying in fourth position behind the subsequent winner, when he has to park his car due to a technical issue.
Lucas di Grassi:
"Our car is fast but it's obviously frustrating to have reliability issues in two consecutive races."
Techeetah: 43 points/Audi Sport ABT Schaeffler: 12 points
The premiere of the electric racing series in Santiago de Chile marks the season's low point. It is the only time in the 2017/2018 season that the team returns from a Formula E event without a single point. Lucas di Grassi's string of technical issues continues. The reigning Champion retires shortly after the car change. Daniel Abt's Audi e-tronFE04 is hit by a rival and parked before the race is over.
Team Principal Allan McNish:
"I've been in racing for many years: Sometimes it goes with you and sometimes everything goes against you – the latter is certainly the case with us at the moment."
Techeetah: 89 points/Audi Sport ABT Schaeffler: 12 points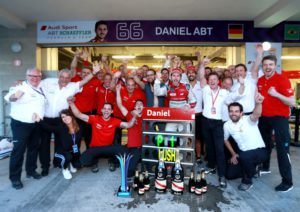 Round five in Mexico City marks the season's turning point for Audi Sport ABT Schaeffler. Daniel Abt's first victory in Formula E also marks the first success of a German driver and the first one for Audi as a factory team. His teammate, Lucas di Grassi, at an altitude of more than 2,000 meters has a gruelling job. The Brazilian starts from the back of the grid because his inverter had to be opened after the race in Santiago. In spite of these difficult conditions, he shows a spirited fightback and with ninth position scores his first points of this season.
Dieter Gass:
"After the problems we had in the first races, this race tastes particularly sweet. But the race was great for both drivers. Lucas drove fantastically and I'm absolutely delighted for Daniel."
Techeetah: 99 points/Audi Sport ABT Schaeffler: 40 points
In Uruguay, Champion Lucas di Grassi returns to the podium on which he will be standing from now on in each of the seven remaining races – a new Formula E record. Along the beach at Punta del Este, the title defender fights a gripping duel with Jean-Éric Vergne during the entire race distance and celebrates second place. Daniel Abt is also clearly on course for a podium when his seat belt suddenly comes undone. After an additional pit stop, 14th place is all he is able to achieve.
Lucas di Grassi:
"Our car is super fast. I look forward to the second half of the season."
Techeetah: 127 points/Audi Sport ABT Schaeffler: 58 points
ICYMI: Check out our @FIAFormulaE Season 4 highlights film -> https://t.co/QZjxSgfheS#ABBFormulaE #FormulaE #etron #ProgressFeelsElectric #LeagueofPerformance pic.twitter.com/9vMcocXCX2

— Audi Formula E (@audiformulae) July 19, 2018