Hayden Paddon, in his first WRC event since Sweden, held an early lead in Rally Portugal after scoring a stage win in SS2 (Viana do Castelo). He took charge again after SS6. However, a crash in the opening kilometres of SS7 saw the Kiwi driver and his co-driver Seb Marshall forced to retire.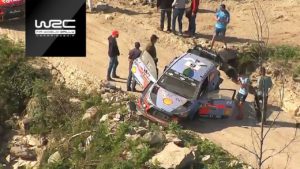 Both members of the crew were able to exit the vehicle on their own accord. Paddon was taken to hospital for precautionary checks after experiencing lower back pain.
"The day was going well, we were driving within ourselves and to our plan. It was a difficult day for everyone and hard to get the tyre choice right. But it was, of course, good to be back on the pace right away. Near the start of SS7, there was a big rock on the inside of the corner, which was concealed. I had to steer out a little for the corner to avoid it, but then the speed was too great and the car ran wide. The problem then was a big culvert on the exit of the corner, which stopped the car instantly. I'm gutted for the team as a good result was possible. For a third year in a row, this stage bites us", Paddon explained.
Well what a day, looking so promising only for Porta De Lima stage to bite us for a third year in a row. To be on the pace and leading the rally twice today was encouraging, driving within ourselfs and looking to consolidate on the final stage of the day 1/2 pic.twitter.com/PPgU5zwhW7

— Hayden Paddon (@HaydenPaddon) May 18, 2018
But unfortunately I made a small mistake to avoid a big rock on the inside of a corner which sent us wide into the ditch and there was a culvert in the ditch to stop us in our tracks. Really sorry for the team and everyone supporting us. Awaiting clearance from the hospital 2/2 pic.twitter.com/VAcCOEuENX

— Hayden Paddon (@HaydenPaddon) May 18, 2018
Paddon not restarting in Portugal after a night in hospital because of Friday's crash
Team Principal Michel Nandan added: "It has been a long time since we have seen a day of the World Rally Championship as unpredictable, tough and incident-filled as that [Friday]. Hayden had shown impressive pace but got caught out by a hidden rock in SS7 that ended the rally for him and Seb immediately. They were able to get out of the car on their own but Hayden had some back pain which needed a precautionary check-up at the hospital."
Update: Hayden's condition this evening is ok. However, due to the severity of the impact, doctors advised him to stay in hospital overnight for observation. He will not re-join the rally on Saturday. We will keep you informed of any updates. @haydenpaddon @sebmarshall

— Hyundai Motorsport (@HMSGOfficial) May 18, 2018