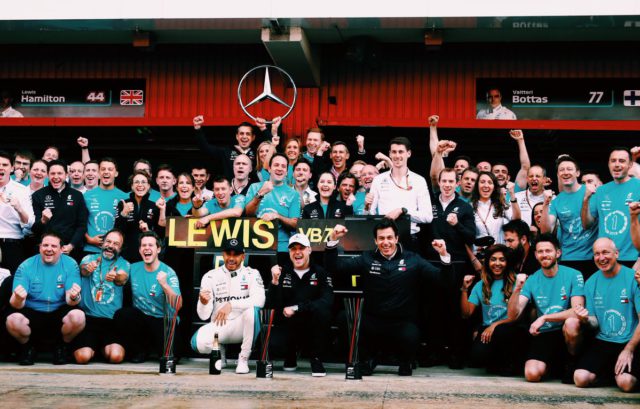 Lewis Hamilton chalked up his second win of 2018 in Spain by a stunning 20 second margin on Sunday. However, he admitted that it's the first time this season that he's felt like his old title-winning self.
Hamilton lucked in to victory last time out after his team mate Valtteri Bottas suffered a late puncture in Baku. He felt that he hadn't really deserved that inherited win. But this time out in Barcelona, there was no question.
"Today the car and myself, I felt that synergy which I hadn't been feeling for the whole year," he said after the race. It felt really good today. I don't know how it looked, but it felt special. It felt strong today.
I was really surprised that no one had the pace to keep up with me. I was pulling away almost a second a lap, so I was thinking: 'Yes! Let's keep this up.' And it remained for the rest of the race."
Hamilton agreed that he was almost back in that old title-winning 'groove' at last.
"I'm nearly in it, I think," he said. "I know that sounds weird, but I mean today was the closest I think I've been in it [in 2018]. I felt really comfortable with the car today. But there were still areas in which weren't quite perfect and I need to improve and see if I can get more comfortable in.
"But this was definitely the closest it's been to some of the good performances we had last year in terms of how comfortable I was with the car. And I think the more comfortable I am the more the pace shows."
The key moment was the start of the race. Hamilton knew that he had to fend off challenges in that long run down to turn 1 if he was going to be able to go for victory.
"I got going and got a good start – which I was really hoping for," he agreed. "I was looking at my starts from previous years here and I've not always had a good start. I've always been contested at the first corner. I really, really put a lot of work into ensuring I got a good start," he added.
Sebastian Vettel did manage to use Hamilton's slipstream to get ahead of Bottas into the first corner. Talking with Bottas after the race, Hamilton regretted not reacting faster to help his team mate out.
"I was thinking, shoot – after the first turn I was like maybe I should have gone to the inside and given [Valtteri] some drag," Lewis said. "I think Sebastian pulled out and got my tow, but it doesn't matter."
Vettel looked set for second place until Ferrari called him in for a second pit stop under the Virtual Safety Car. That allowed Max Verstappen to take the final podium place for Red Bull.
"Ferrari obviously made a bit of a mistake today with their strategy," Lewis commented. "The Red Bulls were really quick in the last sector when I was behind Max. They're going to be rapid through Monaco and it's going to be really hard to beat them," he added.
Valtteri Bottas was celebrating second place on the podium this weekend at the Spanish Grand Prix. However, the Finn is worried that Mercedes' apparent resurgence at the Circuit de Barcelona-Catalunya may prove short-lived.
He admitted that he feared the team's rivals might have the upper hand in two weeks' time in Monaco, where Mercedes has traditionally struggled.
"Honestly I think Monaco is going to be difficult for us," he said after Sunday's race. As we saw last year, we think Red Bull is going to be really strong, and Ferrari was on pole last year. So it's going to be difficult, but we need to keep working hard and believing that we can improve things."
By contrast, the track at Barcelona is much better suited to the W09 – as today's dominant performance from Lewis Hamilton demonstrated.
The only glitch for Mercedes was when Sebastian Vettel managed to slipstream past Bottas for second place into turn 1.
The team attempted to jump the Ferrari during the first round of pit stops, but that didn't work either. Bottas feared he wouldn't be able to do anything about the situation and was resigned to finishing in third.
"I was in a difficult situation after the first stint because I was stuck behind Sebastian," he said. "We knew that we had a strong car with a lot of pace and I think that we were quicker, but it is so hard to overtake here at this track."