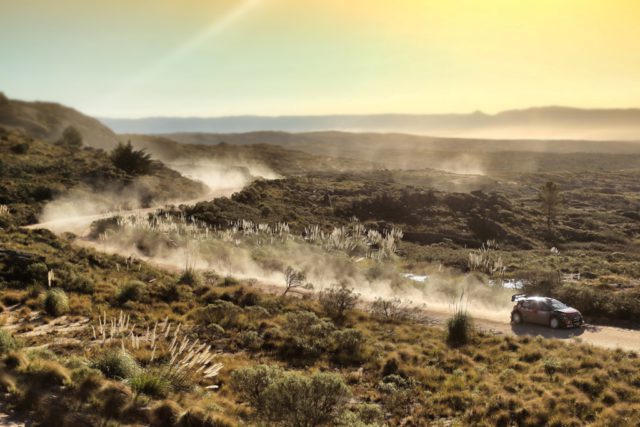 The first of an uninterrupted series of four gravel events, Rally Argentina is almost certain to be the championship's most demanding weekend for the cars. Citroen will be entering three crews in South America, with Kris Meeke – Paul Nagle, Craig Breen – Scott Martin and Khalid Al Qassimi – Chris Patterson. The team will also be running a recently homologated upgrade to the C3 WRC's rear axle.
After being effective in Mexico the C3 WRC's balance has been improved again. The team has used one of its chassis tokens, aimed at introducing an upgrade to the car's rear axle, in order to widen its operating window a little further.
The rally is a huge challenge. There are minimal changes for this year. They are mainly on Sunday's leg, where the stages will be contested in the opposite direction to previous years. The route features some very fast stages, others are extremely twisty. The gravel roads are often very rough.
This 5th episode of Little Big Racing by @Citroen will be full of twists! On the 4 553 806 feet road of @rallyargentina, @krismeeke and @paulnagle1 will try to recapture their title of 2015. See you on April 26 – 29, we'll be live on Facebook for #C3WRClive! ? ?? pic.twitter.com/VJl0pyM9On

— Citroën Racing (@CitroenRacing) April 22, 2018
The traditional hub of Rally Argentina, the Province of Cordoba has an almost religious reverence for rallying
Every year, excited fans flock to the event, thrilled by the WRCs flying along the region's tough gravel roads. Citroen has won ten of the last thirteen rallies held here. Kris Meeke was third in 2014 before then claiming his maiden WRC victory at the event in 2015. After finishing third in Mexico in early March at the only gravel round contested so far this season, the Citroen lead driver is determined to put in a strong performance in Argentina as he aims to get among the frontrunners at an event that he really enjoys.
"I come into this fifth round very determined to move back up the championship standings. But this rally is such a challenge, you have to treat it with respect it deserves", Meeke commented.
"I'll do my very best, as always, but the weather may be a factor. The condition of the roads is often determined by how much rainfall there has been over the previous six months. In any case, it's a rally that I really love, both for the wide range of difficulties involved and the warm, very enthusiastic welcome we get from the local fans. Added to which, I have always been comfortable here. I've finished on the podium twice in my four appearances, including my first WRC win."
Pack your bag and come to @OfficialWRC Argentina 2018!@CitroenRacing @AbuDhabiRacing1 pic.twitter.com/tIkOLffhtM

— krismeeke.com (@krismeeke) April 23, 2018
Craig Breen returns to competitive action, buoyed by his second place finish in Sweden
He will also benefit from a favourable position in the running order on day one, which may help him get back into the swing of things.
"Having only raced here once before, and even then only for part of the rally, when the other guys have been driving on these stages for years, I fear that my lack of knowledge may hamper me a bit. But I really enjoyed the brief glimpse of the rally that I got here last season and I can't wait to get started. Testing went really well. It had been a little while since I had last driven the C3 WRC on gravel and the car has clearly improved on this surface. So my confidence has been given a serious boost coming into this rally, which is set to be pretty demanding", Breen said.
We can't wait to be back in the Citroën C3 WRC at @rallyargentina! Crazy fans, great stages and back doing what we love! pic.twitter.com/lebuh10J1U

— Craig Breen (@Craig_Breen) April 19, 2018
Khalid Al Qassimi, sixth in Argentina in 2015 on his only appearance at the event to date, will join Meeke and Breen
He will be making his first outing of the season in the third C3 WRC.
"I think this rally is going to be a real challenge for me because it has been some time since I last competed here, but I am very much looking forward to it. I'll have to get my bearings again, review and revise the pace notes for the stages. My sole aim is to make it to the finish and enjoy myself, whilst also supporting the team", Al Qassimi explained.
Citroen Racing Team Principal Pierre Budar added:
"The aim in Argentina will be to try and get back on the podium. This is an event where we are very familiar with the specific features. We are also perfectly aware that this rally can sometimes be unpredictable, largely due to the fairly rough nature of the gravel roads. The team works tirelessly every day to improve and refine our C3 WRC a little bit more. The new rear axle geometry introduced for this rally aims to provide even more consistent handling, regardless of changes in the road surface and therefore generate greater confidence for the drivers. In any case, although Craig lacks the experience of this iconic rally, he has already shown in Sweden that he's capable of springing a surprise. Kris is a former winner here, so I think we are well-placed to meet our targets."