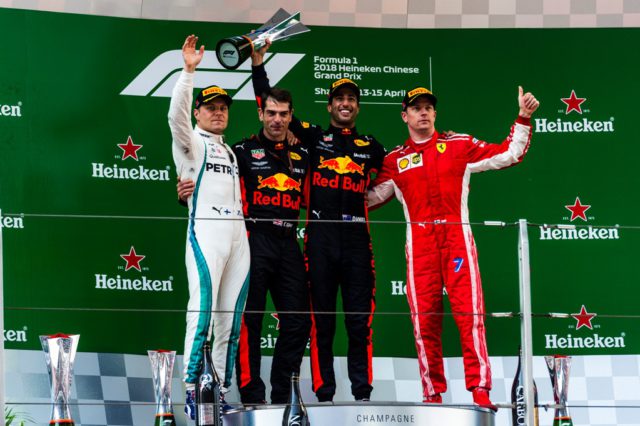 Ferrari got a podium in the Chinese Grand prix but that was not the result the Scuderia was looking for. Kimi Raikkonen was third at the chequered flag while his teammate Sebastian Vettel hardly reached the finish line.
"This result was definitely not the one we were aiming for, given that we were starting from the front row", team principal Maurizio Arrivabene commented. "Our race pace wasn't bad, but this was a Grand Prix in which the many variables made the difference. Kimi made it to the podium and Sebastian limited the damage in a car which, after the collision, was not in the best of conditions for a fight. Now it's important for us to maintain concentration and determination, already thinking about the next race in Baku."
RAI: "I'll take what I got because it looked at one point I'd get nothing" #ChineseGP ?? #F1 pic.twitter.com/F7W84sucMd

— Formula 1 (@F1) April 15, 2018
It's important to maintain concentration and determination, Ferrari's Arrivabene says
Kimi Raikkonen defined his race as "quite painful and not a very enjoyable one".
"At the start, I had a good jump, but then I had to back off and this cost me a few places. After the pit stop, the car was pretty fast and the feeling was good; at that point, we were behind, but I could see the other cars at the end of the straight. The safety car helped us, at that time we had fresh tires. I would say it took us back in the race. In the end, I had a decent speed with the Mediums against the guys that were on the same tires, but getting close to them and try to follow was really tricky", Kimi explained.
"For sure we were faster than Valtteri [Bottas], but when you get close it becomes more difficult, you lose so much grip in the process and lose so much downforce, especially in this kind of circuit. I just couldn't get enough of a run on him. We take the third place, but obviously, when you start from the first row it's far from ideal. We'll try to do better next time."
?#ChineseGP #F1 @danielricciardo pic.twitter.com/xM8AgoPYqn

— Formula 1 (@F1) April 15, 2018