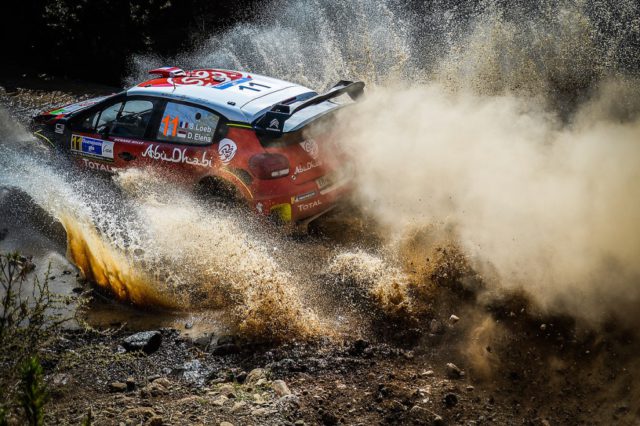 It had been three years since Sébastien Loeb was in that particular garage, five since he was there with a Citroen sitting in a gravel set-up. But in Mexico, the king was back. And back among friends who'd known him since the start of his time with the French firm. This latest chapter in an incredible story that almost delivered the fairytale finish. But for some, just seeing Loeb and co-driver Daniel Elena back was enough.
Last time Loeb drove a Citroen (DS3 WRC) on gravel he won
That was Argentina 2013. Ahead of last week's Rally Mexico, he had no idea how he would get on. Nobody did. Seven stages into Rally Mexico and Loeb was fastest on the El Chocolate stage – a road he'd never seen before this year. Four stages later, he was leading the rally.
A puncture shattered the chance for a dream finale but the crew was still fifth in the overall standings. And already people are talking about a win on the Frenchest of French islands, Corsica next time out.
"Coming into the rally, I felt that testing had gone well, but I obviously had no certainty about my level, bearing in mind that everyone is fighting over tenths of a second and that it doesn't take much to find yourself left behind a little bit", Loeb said after the rally.
"So it was a nice surprise to be on the pace!"
"I'm just a bit frustrated that I wasn't able to test myself properly against the others right to the end because of the puncture. In any case, it was a very good weekend and that was the initial aim of this comeback. I hope I can now go on to get a good result in Corsica, even though I'll still have quite a few things to refamiliarise myself with."
Sébastien fans in the World Rally Championship didn't go disappointed in Mexico. Séb – the Ogier version – was in his usual form to score his second win in three rallies. Ogier and co-driver Julien Ingrassia delivered a great performance in their Ford Fiesta WRC to win Rally Mexico for the fourth time and return themselves to the top of the WRC table.
#RallyeMexico terminé ! Un bon retour aux sources ce week-end, bcp de plaisir, merci @CitroenRacing ?? Vivement le @TourdeCorseWRC ? #WRC #C3WRC pic.twitter.com/iPYDitG0wC

— Daniel Elena (@DanosElena) March 11, 2018
Didier Clement, Citroen's technical and sport co-ordinator, knows Loeb of old – he was on Seb's first Citroen test in July 2001
"At that time it was clear he was fast and clever, but it was impossible to imagine what was coming in his career", Clement says.
He celebrated those nine titles and 78 rally wins alongside Loeb.
"I wasn't sad when he left to go racing [in 2014]", Clement continues. "I knew each story has to have an end and when you know the career of a driver will stop. But we talked still. Sometimes it would be one month between the time we talk on the telephone, but always it was like we talked yesterday. We never broke our relationship. So when we knew he was coming back, it felt natural."
Outwardly, Loeb is Mr. Relaxed, cool, calm and completely collected
But don't be fooled. "For Séb, it was always the details, he works very, very hard before the rally", says Clement. "This hasn't changed and we can see how it works for him here. Since the start of the rally, he has been there."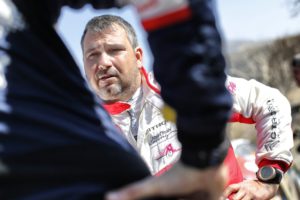 That work wouldn't be possible without Elena, his right-hand man. "We have to talk about Daniel", Clement states. "He is a bit part of the story, of the success. Seb without Daniel, I cannot imagine. This would not be right. They are a couple, but actually, they are more than a couple! Citroen is special for Séb and Daniel and Séb and Daniel are special for Citroen."
Merci à toute l'équipe ! Un régal de vous retrouver ! https://t.co/Sgl04hYhdX

— Daniel Elena (@DanosElena) March 11, 2018
Goodbye @SebastienLoeb! See you in Corsica!#WRC #C3WRC #RallyMexico #Legend pic.twitter.com/ajUmefqXiZ

— Citroën Racing (@CitroenRacing) March 11, 2018