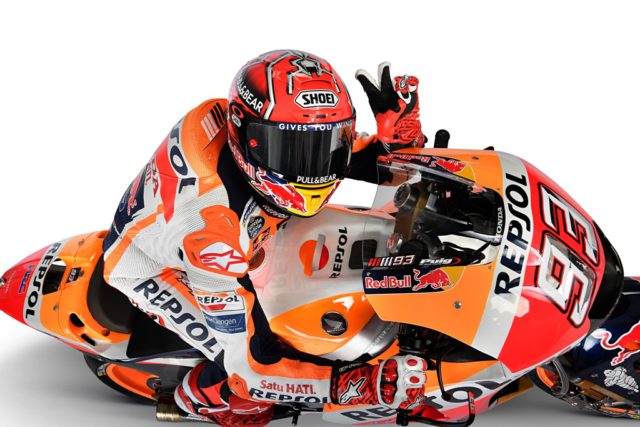 Honda Racing Corporation (HRC) announced the extension of its contract with 25-year-old Marc Márquez. The new contract means that he will continue to race with Honda for two more years beginning in 2019.
After winning the 125cc Championship in 2010, Márquez moved on to Moto2 racing in 2011. He won the title there in 2012. 2013 was his debut year in the premier class. He became the world's youngest champion after taking the title for the Repsol Honda Team.
In 2017, he became the youngest rider in history to win four titles in the premier class.
"I'm excited to continue to race for Honda's factory team in the MotoGP class. I'm proud to race as a member of the Honda family, and I appreciate how Honda and the team always do their best to provide me with everything I need. I would also like to thank everyone who has given me such warm support over the years. The first two official tests went well and, with my contract renewed, I can focus on racing in the new season. I will continue to enjoy racing, share my joy with everybody and do my best to reach our shared goals. Thank you!", Marc Márquez said.
Honda announced the extension of its contract with 25-year-old Marc Márquez for 2 more years
"I am very pleased that Marc Márquez will continue to ride for our factory team. Márquez has consistently pushed himself to the limit and matured as a rider, and given Honda many titles. We were able to announce the contract renewal at such an early stage due to our mutual trust, and our common passion for racing. I am certain that we can provide an environment for him to concentrate on the final tests in Qatar this week and in the lead-up to the opening round, and that we can start the 2018 season strongly. HRC will continue its challenge with Márquez, a vital rider in the future of MotoGP. I appreciate and look forward to everyone's continued support for the Repsol Honda Team", HRC president Yoshishige Nomura added.
Muy feliz de renovar hasta 2020 con el equipo de mis sueños. Muchas gracias Honda family, seguiré dando el 100%!
Very happy to renew until 2020 with the team of my dreams. Thanks a lot Honda family, I'll continue giving my 100%!@HRC_MotoGP #MM93 #2moreyears pic.twitter.com/nl0J49h0ES

— Marc Márquez (@marcmarquez93) February 26, 2018