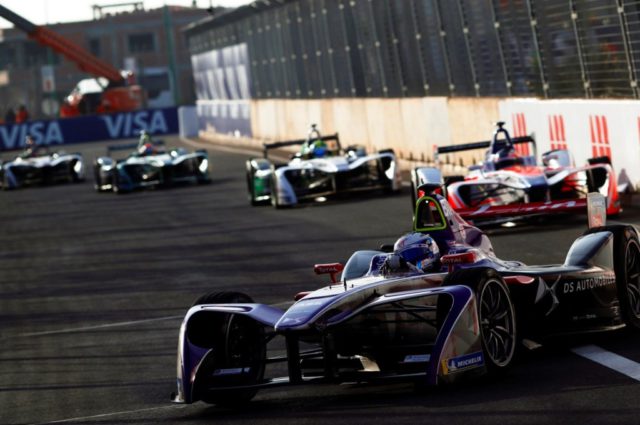 DS Virgin Racing and the all-electric Formula E series embarks on its Latin American tour with the inaugural Santiago E-Prix. The race will take place on the streets of the Chilean capital on February 3.
The race, the first of three in the region along with Mexico and Uruguay's Punta del Este, takes place near the city's El Parque Forestal district on a purpose-built 2.47km, 12-turn circuit, that will see drivers reach speeds of more than 210kph. It also marks the series' third continent visited in four races after Hong Kong and Marrakesh.
DS Virgin Racing drivers Sam Bird and Alex Lynn – the championship's only all-British pairing – will be hoping for further success too following the team's strongest ever start to a season. With a win and a podium to his name already, Bird has emerged as a title contender being just four points off the top spot in the drivers' standings. Meanwhile, consistent points finishes from team-mate Lynn mean the team are in second place in the constructors' championship and remain the only team to have both its drivers finish in the points in every race so far.
As well as a new track to contend with, for the first time in Formula E's history there will also be no minimum pit stop time, adding a new challenge to the racing strategy.
Bird, who is the only driver to have recorded victories in every Formula E season to date, said: "It's always exciting visiting a new city and racing on a new track. As such, there's been a lot of preparation to do, especially with the changes to the pit stops. Not everything went the way we wanted at the last race, but we still came away with third place and we're looking forward to another strong result in Santiago."
DS Virgin Racing and the all-electric Formula E series embarks on its Latin American tour with the inaugural Santiago E-Prix
Lynn said: "We had a frustrating race in Marrakesh, so we're keen to put that behind us and come out fighting again in Chile. I'm hoping we can get up to speed with the new track layout quickly and be in the mix from the off."
DS Virgin Racing Team Principal Alex Tai commented:
"We're delighted to be racing in another new location and one as spectacular as Santiago. DS Virgin Racing has had a fantastic start to the season – our strongest yet. And we have the car, team and drivers to continue that in Chile. For sure, the changes to pit stops will be a challenge. So the team have left nothing to chance by practising hard and will also be wearing additional safety equipment."
DS Performance Director Xavier Mestelan Pinon added:
"It's really positive to arrive in Santiago after the strongest ever start of both championships since we've been in Formula E. Like every new race in the series, work on the simulator will be more crucial than ever for the drivers to learn the track and also for the engineers to find the most efficient way to use the energy of our DSV-03."
Have you got what it takes?

Send us your entry to be the #SantiagoEPrix #DSVRSuperfan now – the more creative the better! #DSVirginRacing #FormulaE pic.twitter.com/T3Ro5SfIpg

— DS Virgin Racing (@DSVirginRacing) January 26, 2018