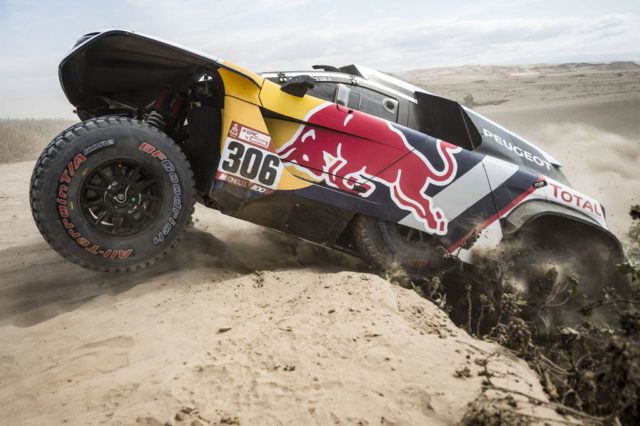 The 2018 Dakar Rally continues to take no prisoners with another high-profile driver retiring on Stage 5. After Sam Sunderland was forced to abandon on Tuesday, today it was the turn of nine-time World Rally Champion Sébastien Loeb as the race intensified on a 250km plus special stage.
Peru has been a brutal start to the 2018 edition, and tomorrow (Thursday) sees the remaining competitors take on high altitude on the way from Arequipa to La Paz in Bolivia.
Car
Loeb set off first after winning on Tuesday but came to a standstill in the dunes after just five kilometres. Despite getting going, he got stuck again and had to wait two hours for assistance before deciding to exit the race due to his co-driver Daniel Elena suffering an injury.
It was another masterful performance from 13-time champion Stéphane Peterhansel though as he safely navigated the soft sand dunes to win the stage from Bernhard ten Brinke and extend his overall lead to 30 minutes from Carlos Sainz.
Loeb said: "There was a hole that I didn't see, we fell in on the front of the car with a big impact. It was very deep and impossible to get out. It is frustrating as we were in a good position."
A day of struggle ended with an abandon for @SebastienLoeb & @DanosElena on stage 5 of the #Dakar2018.
Un día brutal terminó con un abandono de Sébastien Loeb y Daniel Elena en la etapa 5 del #DakarPerú2018.
More / mas info > https://t.co/R0ezQ07YE0 pic.twitter.com/VHRasKbfKC

— DAKAR RALLY (@dakar) January 10, 2018
Bike
Joan Barreda was the man to beat on the bikes, the Spaniard pulling out all the stops to recover a chunk of the time he lost on Stage 3.
Barreda dominated from the start to steal the stage in style, finishing ten minutes ahead of Austrian Matthias Walkner who consolidated third place overall on the Red Bull KTM Factory Team bike.
Walkner said: "A really hard day again with so many sand dunes. I tried to not risk a lot as today was a day when you could lose a lot of time. Every day things are changing so quickly."
Quad
The big news of the day involved Russian contender Sergey Kariakin who fell and broke his arm after 44km. Nicolás Cavigliasso won the stage, but Ignacio Casale still tops the leaderboard by 40 minutes.
Trucks
Eduard Nikolaev recovered his composure to dominate the stage once again. The Russian survived an early scare, when he flipped his truck onto its side, to extend his lead over Federico Villagra by nearly one hour.