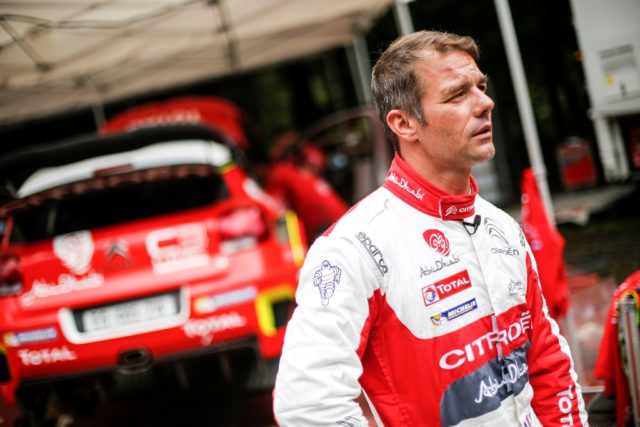 Contesting the full season next year, Kris Meeke will spearhead the Citroen Total Abu Dhabi World Rally Team, whilst Craig Breen will drive the second Citroen C3 WRC at ten rounds of the championship and Khalid Al Qassimi will appear in a third car at a handful of rallies. Sébastien Loeb will be making a much-anticipated return to the WRC with the brand in Mexico, Corsica and Catalonia.
Meanwhile, Stéphane Lefebvre will be tasked with driving the Citroen C3 R5 on its debut season in the WRC2.
The team will once again be putting its faith in Kris Meeke. On the return of Citroen to the WRC as a works team this year, the 38-year-old Briton bagged the C3 WRC's maiden victory. That happened in its third race, on the Mexican gravel. After that, he also won on the tarmac in Corsica. The second part of the season confirmed his ability to take on the responsibilities of team leader. The highlight being a second, resounding win on the gravel and tarmac of Rally Catalunya, and a determined attitude, befitting that of a leader.
Craig Breen will participate in 10 WRC rounds. The 27-year-old Irishman is very determined to build on the experience acquired this year and secure more podiums in 2018.
The 2018 season will also see the Loeb-Elena crew back competing for Citroen. This way they will reform a partnership that has nine world drivers' and co-drivers' titles (2004 to 2012), eight manufacturers' titles (2003 to 2005 and 2008 to 2012) and some seventy-eight rally wins. Loeb and Elena retired from full-time involvement in the WRC at the end of 2012. They contested only four rallies in 2013 and made a one-off appearance at the 2015 Rallye Monte-Carlo. Now Sébastien Loeb will be looking to find the feeling specific to rallying when he drives the second works C3 WRC in Mexico, Corsica and Spain. It will be a chance for the rally legend to enhance his illustrious record even further at events where he has previously won on six, four and eight occasions respectively.
The team's loyalty is also reflected in the continuing involvement of Khalid Al Qassimi. He will drive a third Citroen C3 WRC on a few occasions. Stéphane Lefebvre will be given the task of promoting the new Citroen C3 R5 in the highly competitive WRC2 class.
Yves Matton, Citroen Racing Team Principal
"For 2018, we have decided to capitalise on what we've been building for a number of seasons now with Kris and Craig. Kris' speed is unquestionable. And with the more relaxed mindset he had at the end of the year, he proved he had it in him to be a leader. The aim will be to target podiums, secure some wins, but Kris can also go for position in the championship. Meanwhile, Craig proved that he was the perfect foil, with some very consistent performances. There is still room for him to improve and aim even higher."
"I'm also delighted to see that there will be another chapter in the great history between Sébastien Loeb and Citroen. He couldn't have returned to the WRC with anyone other than us! Seb confirmed that he has lost none of his speed and skill during the test sessions completed. He is bound to be short of knowledge of the stages and time in the car, compared with the increasingly tough competition. We still believe in Stéphane. We are convinced that he will be a good ambassador for the C3 R5, for which the brand has great hopes. And this programme will allow him to continue to add to his experience and therefore keep improving."
Kris Meeke
"We learned a lot during the first season with the C3 WRC. And we've gathered a lot of information to help us do better in 2018. Despite a few tough moments, we managed to show our potential. We are now going to try even harder to be more consistent on the variety of surfaces used in the championship. We won't be taking anything for granted. But by working in a relaxed and calm manner, we can achieve good things. We'll be aiming to score heavily at Monte-Carlo and in Sweden in order to get off to a good start in this second campaign."
Craig Breen
"I'm delighted to stay with the team for another year. I had a lot of things to learn this first full year in the WRC. But I managed to be consistent. We also worked a lot on fine-tuning the handling of the Citroen C3 WRC. And the progress made on gravel at the end of the season fills me with optimism. We have to keep going in order to obtain even better results. In any case, I'm going to do everything I can to get my first win at events like Rally Finland or Wales GB Rally, where I have a bit of experience."
Sébastien Loeb
"Everyone was pleased after the test sessions done this year, myself first and foremost. These three appearances were the next logical step. The feeling you get in rally is one of the most thrilling feelings I have ever experienced. And I was excited about driving one of these new WRCs in a race. And it's nice to be able to do it in the team with which I have enjoyed so much success!"
"I don't have any expectations, I just want to enjoy myself. I thought it made sense to take part in the French round. Especially since I've always loved racing on tarmac although I'm not familiar with the current route of the Tour de Corse. Spain seemed like a good option too. And although I'm expecting it to be pretty tough given the time that has passed since I last competed there, I also wanted to contest a gravel rally. We opted for Mexico since I have good memories of racing there. And the route hasn't changed too much since I was last involved in the championship."
Khalid Al Qassimi
"We focused on 2018 as regards the development of the Citroen C3 WRC. And it was, therefore, important to continue with the drivers who already know the team and the car well. Kris and Craig make a good duo. Like many fans, I'm also very excited at the idea of seeing Sébastien Loeb back in the WRC driving a Citroen! My commitments mean that I'll only be taking part in a handful of rallies this year. Although I won't be able to be in Monte-Carlo, which is held just after the Dakar Rally, I will obviously be following the start of our season with great interest."
Stéphane Lefebvre
"It's a new challenge for the new year. Sometimes, you have to take a step back, before taking two steps forward. I've been given a great opportunity to show just how competitive the Citroen C3 R5 is, whilst still competing as a works driver in the WRC2, a very closely contested championship. The aim is to win the title and make the car the new benchmark in the category. Having driven it already in tests, I know that it is a well-designed car. Given that there is a need to finalise its development, I'll come into the races with a lot of miles under my belt. And that's what really matters at this stage of my career."