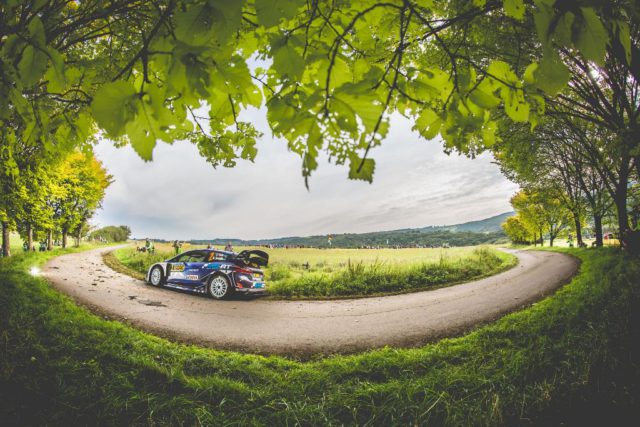 Ott Tänak is known for his inspired performances on fast gravel, but he and co-driver Martin Järveoja proved that they can be just as formidable on the Tarmac of Rallye Deutschland on Friday.
Whatever the conditions, the Estonians were on the pace. Tänak set three fastest stage times on both dry and wet asphalt to take command at the head of the time sheets.
With eight stages down, and just a 5.7 second advantage, there remains all to play for but the Estonians have firmly established themselves as strong contenders this weekend.
"It's been a tricky day – the second loop especially was really extreme – and the conditions were really unpredictable", Tänak explained
"Once we were really lucky. On a hairpin I totally lost sight of the road and dropped down the bank. It was nothing special – no wrong speed or anything like that. But it just proves that sometimes you have to have a little bit of luck as well."
"This afternoon, everyone said that I was really brave to take this tyre choice [three full wet tyres]. In the end, I was confident in myself and in my decision. And it turned out to be the right call. The tyres worked really well and we are here in first place at the end of the day."
"There's still a long way to go and as we've seen in the past anything can happen in Baumholder. For sure it will still be a bit damp in the morning, but hopefully not as extreme as it was today. We had a really good test there last week, and a really good feeling with the car. So I see no reason why we can't be as fast as we were today."
? Big Moment for Rally Leader @OttTanak / @MartinJarveoja in SS6 #WRC #RallyeDeutschland @MSportLtd @Michelin_Sport ?: @AtWorldMA pic.twitter.com/U9n1JkUjZr

— WRC (@OfficialWRC) August 18, 2017