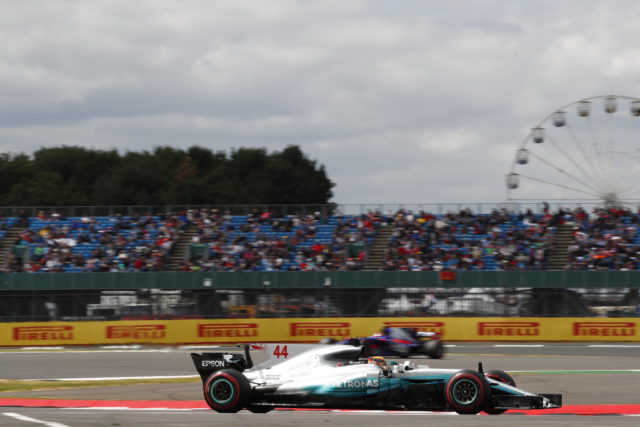 The Mercedes drivers Valtteri Bottas and Lewis Hamilton dominated the Friday free practices at Silverstone. They both were happy with the beginning of their weekend.
Valtteri Bottas
We've started the weekend really well. In the first session, the balance was not too far away, so a positive start. There is still work to do to get the car more driveable and to be able to trust it more in the high-speed corners. But overall I think it was a good start for the weekend. We just need to work as normal, try and make improvements for tomorrow. I'm impressed by the new cars on this track with its high-speed corners – they're so much quicker than before. I'm definitely enjoying it and had a lot of fun, so I'm looking forward to tomorrow. You feel more G in the corners and there's a greater effect on your body, quite a big step up from last year. But luckily I'm well prepared for that.
Lewis Hamilton
Today's been a really good start to the weekend and it's great to be back here at Silverstone. The track is absolutely incredible with these new cars. It was already one of the very best circuits in the world, but with this car and the speed we are able to carry through the corners, it's just phenomenal, it's like the greatest rollercoaster ride ever. We worked through all the sessions, fine-tuning the balance and I think we're in a good position at this early stage of the weekend. We still need to build upon it, but it's a great foundation moving forward. Each time I left the garage I gave the fans a wave and I could see them waving back. I just want them to know that I can see them and I really appreciate all the love and support.
James Allison, Mercedes Technical Director
We've had a really promising start to the weekend, with both cars working well on the three different tyre compounds, as well as showing good pace on both low and high fuel. We worked through our programme successfully and now our focus turns to making sure we're in the best possible place to compete on Saturday and Sunday. A good start though overall.
These are the guys and girls that make us what we are…
Hundreds of individuals, one team
We are the Silver Arrows ? #Proud

? @PaulRipke pic.twitter.com/wCRpVgKilz

— Mercedes-AMG F1 (@MercedesAMGF1) July 14, 2017