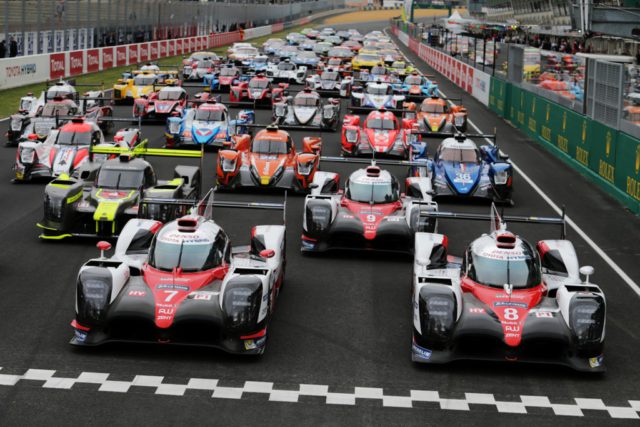 Toyota will revisit the scene of its most dramatic moment later this month for the 85th edition of the Le Mans 24 Hours, the third round of the 2017 FIA World Endurance Championship (WEC).
As World Championship leaders, the team travels to Le Mans inspired by the heartbreak of last year's Le Mans when victory slipped away on the penultimate lap and the overwhelming reaction of fans worldwide.
Since then, Toyota focused on intensively developing the TS050 HYBRID with the aim of winning Le Mans for the first time. The team made its Le Mans debut in 1985 and has entered 18 times, finishing second on five occasions.
The determined development effort in Higashi-Fuji and Cologne resulted in a significantly revised TS050 HYBRID, which is so far undefeated following wins at Silverstone and Spa-Francorchamps.
A new 2.4litre V6 turbo-charged petrol engine, with optimised thermal efficiency, made its race debut at Silverstone. The hybrid system also had an upgrade, with lighter and smaller motor generator units. They recover and deploy 8MJ per lap at Le Mans.
A TS050 on three iconic sections of the Circuit de la Sarthe = ? #LEMANS24 pic.twitter.com/2zKr4fJjgY

— TOYOTA WEC Team (@Toyota_Hybrid) June 4, 2017
Le Mans will see all three Toyota TS050 HYBRIDs competing in low-downforce specification
It puts a priority on top speed which is a critical aspect of performance at the 13.629km Circuit de la Sarthe.
Leaving no stone unturned as part of its philosophy of continuous improvement, the team has also revised its driver line-up for Le Mans to optimise its competitive level.
Mike Conway and Kamui Kobayashi reunite with Stéphane Sarrazin in the #7 TS050 HYBRID. The trio led Le Mans for long periods last year before ultimately finishing second.
Sébastien Buemi, Anthony Davidson and 2014 pole position-winner Kazuki Nakajima race together at Le Mans for the third time. They are in the #8 TS050 HYBRID. They were not classified last year following a technical problem on the penultimate lap when leading.
Nicolas Lapierre joins Le Mans rookies Yuji Kunimoto and José María López in the #9 TS050 HYBRID. This year is the first time that three Toyotas have competed at Le Mans since 1999.
Preparations intensified earlier this month when all cars took part in the official test day
The team was satisfied with productive test, which saw the three TS050 HYBRIDs lock-out the top three positions.
Toshio Sato, Team President:
"Le Mans is the highlight of our season and the focus of a huge team effort in Higashi-Fuji and Cologne. I would like to thank everyone for their sacrifices and hard work over the last months to prepare for this race. We all remember what happened last year but that is in the past; now we are focused only on this year's race and we expect to fight at the front again."
"After winning the first two races of the 2017 season we are hopeful, however we know Porsche will fight back strongly and we must perform at our best to be competitive. The test day went very well for us but we are not getting carried away because the only important result is at the end of 24 hours of racing. I expect a very close race, which would be fantastic for the fans; we cannot wait to be part of it."
At the end of the #LeMans24 Test Day it is the #7 #TS050 HYBIRD that takes the fastest time with a 3:18.132 set by @kamui_kobayashi. @FIAWEC pic.twitter.com/UkPNAEIWuL

— TOYOTA WEC Team (@Toyota_Hybrid) June 4, 2017