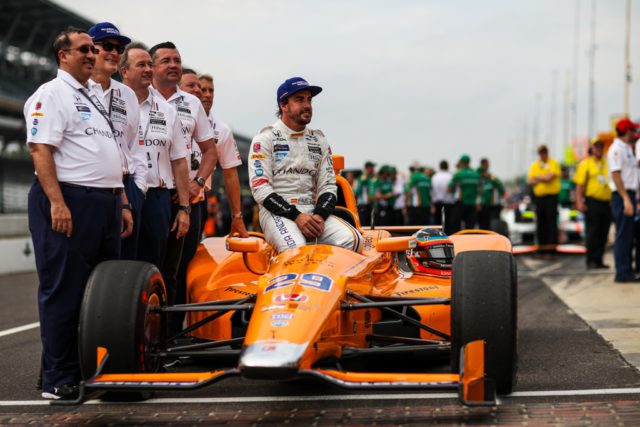 In his first oval-track qualifying attempt, two-time Formula One champion Fernando Alonso qualified seventh in the No. 29 McLaren-Honda-Andretti Honda.
"It gets stressful, it gets difficult, tricky," Alonso said after the session. "But at the same time, huge adrenaline when you cross the line (to conclude the run). Saturday was all about being in the fast nine. We did it and tomorrow is the real thing, so let's see."
WATCH: @alo_oficial talks with @verizon pit reporter @katiehargitt after his #Indy500 qualification run at @IMS #INDYCAR #AlonsoRunsIndy pic.twitter.com/E0ekVJlMC6

— IndyCar Series (@IndyCar) May 20, 2017
"It's definitely a very unique place"
"We are here two weeks. You're not going to repeat two laps the same because always the conditions, they keep changing. And that's amazing from a driver point of view to have that feeling with the circuit that you have to drive the car always; always it will be tricky. In (Turn) 1 or 3 or 4, always you will fight the challenge."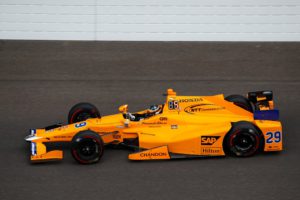 The Spaniard was asked if he would have been happy, knowing a couple of weeks ago that he had a shot at Indy 500's pole.
"Definitely, very happy", Fernando answered. "Obviously, now, we just finished the run. I'm really hopeful we'll be in the Fast Nine, and tomorrow (on Sunday qualifying) I think we will be much quicker than today. But anyway, it has been a fantastic week of running, a fantastic week of different experiences, running alone, high boost, low boost; every lap feels different."
"We only had one attempt because of the weather, so that creates stress in everybody. I think we deal with that. But as I said, I think there will be more speed to come, hopefully."
"The first lap May 3rd here; I mean, everything was strange for me"
"The car – how it turns in the corner, how it rotates in the corner was a little bit strange. But now I feel confident with the team. We are a six-car team, so we have a lot of information that we share. All the teammates, they have been a big help for me in terms of setup with the car and also running in traffic. We've been running a lot together, and that's really a huge help for me."