Kia Motors released images of the all-new Kia Picanto, the third-generation of one of Kia's global best-selling cars.
The new Picanto brings youthful and energetic character to the A-segment. It is created by Kia's design centres in Namyang, Korea and Frankfurt, Germany.
The all-new model is revealed in Kia's sports-inspired 'GT-Line' specification. It conveys a more assertive stance through bolder body lines and subtly sculpted surfaces. A 15 mm-longer wheelbase (2,385 mm to 2,400 mm) also pushes the wheels further out into each corner for a more confident appearance. The Picanto's colour palette is more vibrant than ever, with a range of bold paint colours designed to make the car stand out.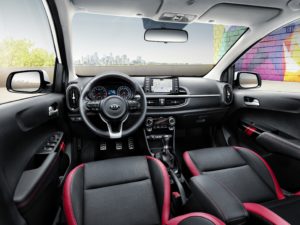 Inside, Picanto's suite of high-tech comfort, convenience and safety features is underscored by a modern and refined new cabin design. At the heart of the cabin is a new 'floating' touchscreen infotainment system. It makes the latest in-car technology available to occupants.
Buyers of the all-new Picanto will enjoy smarter packaging efficiency than ever before. There's more cabin and cargo space than rivals in the segment. In spite of its extended wheelbase, the Picanto retains its characteristically compact dimensions. With a shorter front overhang and longer rear overhang, the all-new model is the same length (3,595 mm) as the car it replaces.
Kia will reveal the all-new Picanto in public in March. It will appear for the first time at the 2017 Geneva International Motor Show . The car will go on sale in the Spring of 2017.
Perfect blend of style & performance. #Kia's new vehicle boasts unprecedented details that will bring driving experience to the next level. pic.twitter.com/YASMVugqGB

— Kia Motors Global (@Kia_Motors) 2 January 2017