Paulo "Speedy" Goncalves is a veteran with a very lengthy off-road honours list. It includes victory in the 2013 Cross-Country Rallies World Championship and runner-up spot in the Dakar 2015.
His pace, his skill to adapt to terrain types and his capacity to analyse stages are just some of the abilities of this multi-faceted rider, who has developed greatly with experience. Goncalves' Dakar debut took place in 2009, collecting his first stage victory two years later. Both positive thinking and easy-going, the Portuguese rider never stopped believing in his abilities. He went on to win the Cross-Country Rallies World Championship in 2013, closing the year with triumphs in an intense Sertoes Rally and a thriller in Morocco.
An unfortunate fifth stage put an end to his dreams of victory in the Dakar 2014. In spite of conceding the world title the Portuguese rider fought a gutsy battle until the end. "Speedy" made up for his misfortune by storming to a second place overall finish in the 2015 Dakar. Meanwhile, he took the bronze medal in the 2015 World Championship with podiums in Qatar and Morocco. He also won the Argentinean Desafao Ruta 40.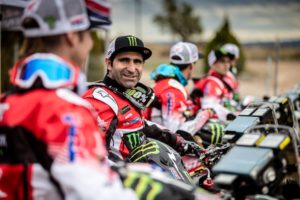 PAULO GONCALVES TALKS ABOUT THE DAKAR RALLY
Your favourite moment is?
When I arrive at the end with a good result in the overall standings. You are deeply satisfied with yourself when, as well as the good result, you have the feeling that you've done a great job behind the handlebars and everything has gone well.
Your worst souvenir has been…
Whenever you are injured. Unfortunately I have had to drop out of the Dakar on two or three occasions. Normally, when a rider has to abandon the race through injury, that's the worst thing that can happen to you.
What is your goal?
My aim is to fight every day and do the best I can, as much for myself as for the Monster Energy Honda Team, so that in the end we will have something to celebrate.