Nico Rosberg won the Belgian Grand prix. Daniel Ricciardo of Red Bull was second. Nico's teammate at Mercedes Lewis Hamilton took third place after starting from the back of the grid.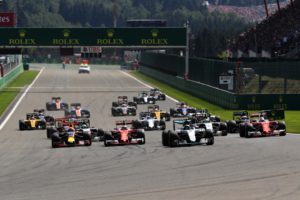 After the start the race took a dramatic turn at La Source. Both Ferraris passed Max Verstappen when the lights ran out. The Red Bull driver attempted to pass Kimi Raikkonen on the inside. Sebastian Vettel was on the outside and the Finn had no room to avoid contact.
Vettel spun and all three drivers sustained significant damage
Later on Raikkonen battled Max Verstappen and had another contact with him. Kimi was very angry with the Dutch's defending tactics and warned the teenager would "cause a big incident" if he continues to drive in such manner.
Vettel blamed Max Verstappen for the incident: "I could hardly see Kimi. He was in the blind spot and I don't think what Max was trying to do was going to work. Obviously he didn't allow Kimi to move to the inside and allow both of us to clear turn one in a normal manner. Then we all touched and collided and that was obviously bad news for especially us two but, with hindsight, all of us."
Max himself denied he was overly aggressive and added: "I mean it's ridiculous. But it's good television if somebody's moaning. Especially after turn one where they do something to you like that. I'm not going to give up my position to them that easily afterwards. I'm just defending my position. If somebody doesn't like it, it's his own problem."
Nico Hulkenberg and Sergio Perez were fourth and fifth in Spa and Force India passed Williams the constructors standings. McLaren also gained a place after Fernando Alonso finished seventh, behind Vettel.
Valtteri Bottas, Raikkonen and Felipe Massa completed the top 10.
"I am so happy to win here in Spa at this legendary track. It wasn't an easy weekend for us", Rosberg said. "We had to work a lot on the setup – but in the race it was perfect. The stints on the medium tyres were really good and I felt really comfortable at the start on the softs too. Our car was really great today, so thank you to the team for all their hard work in getting it spot on. It's great for the team that Lewis was able to recover to finish in third place, so overall a great result for us."
Nico added that the thousandths of Dutch fans should not be sorry for Verstappen's race, because he is still young and has a lot more years in front of him.