Tight turns, tire walls as track barriers and a spectacular jump into the valley: Circuit Jules Tacheny at Mettet, Belgium, some 80 kilometres southeast of Brussels will host round three of the FIA World Rallycross Championship (World RX) this weekend (May 12/13) – and test the drivers' courage.
The two EKS Audi Sport drivers are travelling to Mettet with mixed feelings as well
In 2016, Mattias Ekström won the World RX round there but has also had some unpleasant encounters with the tire walls in previous events. "The fans and the atmosphere in Belgium are great. But this is one of those strange, artificial race tracks we drive on from time to time," says the Swede. "Actually, the track has only turnoffs and this massive downhill jump. The racing line is narrow. It's difficult to achieve a fast lap time and the Joker Lap is so slippery and slow that you feel like you're stopping." Because overtaking is difficult EKS Audi Sport has focused on further optimizing the starts in recent days, among other things.
The end of an era in the @DTM! Enjoy these emotional scenes from @mattiasekstroem's farewell races at Hockenheim. Tack för allt, Mattias! #AdjöMattias #DTM #DTMHockenheim #LeagueofPerformance pic.twitter.com/tmkbM2p6Ne

— Audi Sport (@audisport) May 8, 2018
Ekström's new teammate, Andreas Bakkerud, currently the World RX runner-up trailing title defender Johan Kristoffersson in a Volkswagen, ended his test at Mettet at the beginning of 2018 with a spectacular accident.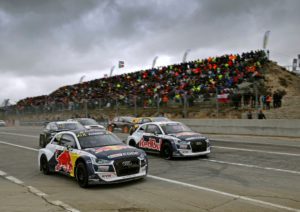 "I'll definitely try to avoid that this weekend," the Norwegian says. "Mettet has always been my weakest round in the World RX to date. I need to improve there and show the consistency I had in my first World RX events in the Audi S1 EKS RX quattro." He is in awe of the Belgian track: "It's easy to make a mistake there and crash into the tire walls." That he reeled off the largest number of kilometres in the pre-season test at Mettet and gained more confidence in the process is a positive, he adds.
Bakkerud visited the Audi plant in Ingolstadt last week
From there he travelled on to Hockenheim to keep his fingers crossed for Mattias Ekström in his DTM farewell race. Subsequently, the two Audi drivers got in the mood again for World RX round three by driving race karts.
As ovelhas estão perdidas à procura do seu pastor em direção a #MettetRX, se as encontrar entregue-as na #EKSRX.

These sheep are lost, they´re looking for their shepherd @AndreasBakkerud heading to @MettetRX, if you find them deliver to @EKSRX @FIAWorldRX. #WorldRX #MontalegreRX pic.twitter.com/aWDV3wlXkZ

— Montalegre RX (@MontalegreRX) May 8, 2018