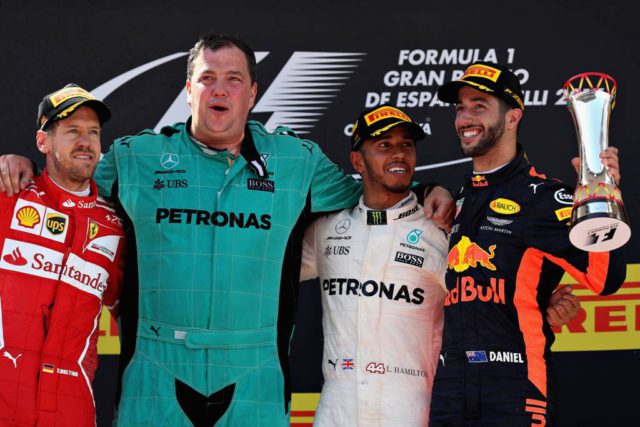 Lewis Hamilton defeated Sebastian Vettel in the F1 2017 Spanish Grand prix. With that victory the Mercedes driver slashed the gap to the Ferrari man in the overall standings to just 6 points.
The race did not start very well for Hamilton. A perfect getaway from second on the grid saw Seb move ahead of him and into the lead. Things did not go so well for Kimi Raikkonen: at the first corner, he was tapped from behind by Valtteri Bottas and that pushed him into Max Verstappen which meant the Iceman had to pull over to the side of the track with broken front left suspension. Max retired as well. Bottas continued but later suffered a power unit failure.
Vettel pulled away in the early laps and behind him, Hamilton reacted. For the opening laps, the gap stayed around the 2 second mark and then it looked as though the Mercedes man was trying to close with the intention of pulling off an "undercut" by pitting early to emerge in front. Ferrari reacted, bringing Seb in on lap 14, fitting another set of Softs. Vettel rejoined behind Daniel Ricciardo. At the start of lap 16, he passed the Red Bull under braking and set a fastest lap of 1:24.901.
Lewis Hamilton pitted on lap 21 and went for the medium tyres, while Vettel was attacking Bottas who was doing everything he could to keep ahead. Lap 35 and Seb dived to the left, went onto the grass and got by at Turn 1, so the Vettel-Hamilton duel was back on. Lewis was 4sec down but on the harder rubber. On lap 33, Vandoorne closed the door on Massa, went off the track and the race went into Virtual Safety Car mode. Hamilton came in on lap 37 and soon after the race was on again. Seb went for the mandatory set of Medium tyres.
Hamilton was passed on the straight and yet again the duel resumed. Seb pushed hard, really hard in the first two corners. The SF70H hung onto the lead, while Bottas retired. Seb made the most of getting through the backmarkers to also be able to use the DRS down the main straight. But with a clear track, Lewis made the most of his tyre advantage and the moveable wing to get ahead finally on lap 44.
But the fight wasn't quite over, because Seb's rival had to look after his softer tyres. "Keep your head down," engineer Ricky Adami advised his driver. But there were no more opportunities for attempting one final assault.
Lewis Hamilton: "That's how racing should be"
"The team did an incredible job today. That's how racing should be, that's as close as it could be," Lewis Hamilton said. "Sebastian Vettel was incredibly close, incredibly fast but the team did a great job with the strategy."
"At the start, I don't know exactly what's gone wrong, I need to speak with my guys. It wasn't good enough but trust me I did everything I was supposed to do."
"I think in the heat of the moment it's difficult to know from the outside view what it's like. I felt I was ran out of road and was alongside, it was definitely close but again as I said, that's how racing should be and I loved it. Wouldn't change it for the world."
PROVISIONAL CLASSIFICATION (LAP 66/66): @LewisHamilton's day #SpanishGP ?? #F1 pic.twitter.com/gTZZlzPqp4

— Formula 1 (@F1) 14 May 2017