Red Bull Toro Rosso Honda Formula 1 racing drivers, Pierre Gasly and Brendon Hartley have both chosen the renowned Honda Civic Type R as their primary road car.
The 2017 model Civic Type R is the ideal fit for an F1 driver on or off the track. It is manufactured at Honda of the UK Manufacturing (HUM) and coined as the 'race car for the road'. The car holds the record for the fastest front-wheel drive car ever around the Nurburgring Nordschleife. Its lap time was 7min 43.8sec.
Both Gasly and Hartley are competing in their first full season of Formula 1 this year, having driven in the 2017 championship for five and four rounds respectively. Finishing fourth in the Bahrain Grand Prix last month, Gasly scored his first ever F1 points and Red Bull Toro Rosso's first of the season.
Gasly and Hartley have another important point in common also. Both are champions. Pierre took the GP2 title in 2016. Brendon is the reigning World Champion in the World Endurance Championship.
Frenchman Gasly also finished as runner-up in Japan's Super Formula, racing with Team Mugen. He received his new car last month. He commented: "I am very lucky to have a Type R as my daily car. I'm excited to try it out on the iconic Route Napoleon in the South of France, and maybe even on a racetrack where I will really be able to push the limit."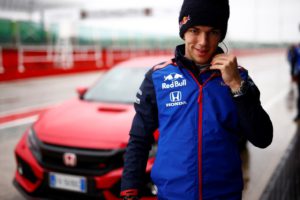 Powered by Honda on track and now on the road – the Toro Rosso drivers choose Civic Type R
For Hartley, the imminent arrival of his own Honda Civic Type R brings back a few memories. "Would you believe it, my first ever road car was a 1996 model year Honda Civic," recalled the New Zealander. "So it's nice to get the upgrade to the Type R. The only downside is that, with 21 Grands Prix and the really busy F1 schedule away from the track, I won't get to drive it as much as I'd like."
Honda launched the 2.0-litre VTEC TURBO engine model in 2017. Peak power output from the optimised engine is 320 PS at 6,500rpm and peak torque is 400Nm from 2,500rpm to 4,500rpm. It covers the 0-100km/h (0-62 mph) sprint in just 5.7 seconds. Meanwhile, the top speed is 272km/h (169mph).
The 414 litres of boot space with a wide boot opening of 1,120mm, combined with a flat boot floor for loading of heavy items, also fits the bill for a round-the-world commuter. Gasly added: "The interior is spacious, particularly the trunk, which is important for going to the airport with all the luggage I need to carry."
First point on the board! ?@BrendonHartley talks to @PlayersTribune in his latest post-race Vlog and reflects on a chaotic Azerbaijan GP ? pic.twitter.com/Hwtzpdjoew

— Toro Rosso (@ToroRosso) May 4, 2018