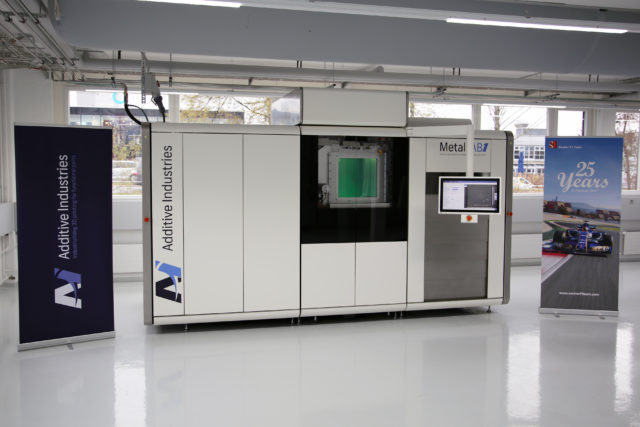 The Sauber F1 Team and its Technology Partner, Additive Industries, launched the MetalFAB1 3D-metal printing machine in the new production facility at the Hinwil headquarters. A second 3D-printing system will follow in 2018.
The 3D-printing technique allows substantially improved reproducibility, productivity, and flexibility compared to other production processes. The objectives of the partnership are to build a technology centre in Hinwil. Also, to exchange know-how and to establish new trends in the 3D-printing industry.
Axel Kruse, Operations Director, Sauber Motorsport AG:
"In manufacturing industry technology there is a sense of revolution – not only because of the progress in digitalisation. Sauber will develop the necessary know-how in additive manufacturing in F1, as well as for third-party business."
Daan Kersten, CEO, Additive Industries:
"We will enable the Sauber F1 Team professionals to accelerate in the metal additive manufacturing domain. We are grateful that in return, we can use Sauber's brand new state-of-the-art production facility as a training facility for our European customer base."
Sauber will hope to better its performance in 2018 as this year the team finished last in the constructors' standings.
IN ?: A little #MondayMotivation for all us looking forward to the 2018 #F1 #AlfaRomeoSauberF1Team? Head to our gallery from Saturday's event ?https://t.co/5pIVMUa2NA pic.twitter.com/TinMDUKLhu

— Sauber F1 Team (@SauberF1Team) December 4, 2017