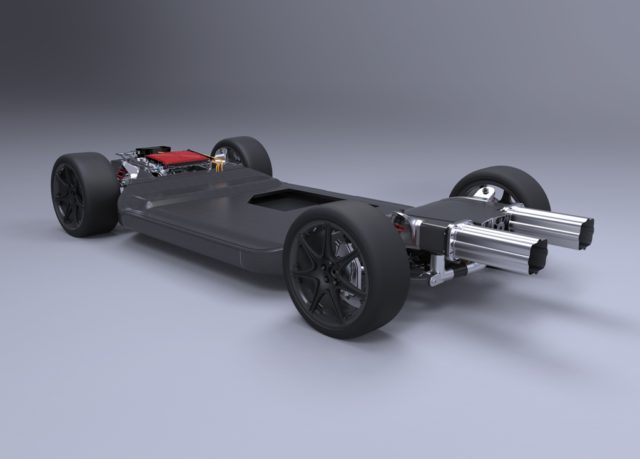 Williams Advanced Engineering revealed an innovative lightweight EV platform concept. Its name is FW-EVX and it will be on display at this year's Low Carbon Vehicle Show, which is in Millbrook (6-7th September 2017).
The car industry has its focus now on its transition from the internal combustion engine to a fully electric future. The manufacturers face a major challenge: how to maximise vehicle efficiency.
Williams Advanced Engineering responded to that challenge. The company's new approach aim is making EVs lighter, safer and greener, while giving them longer range and better performance.
The concept features innovations in battery pack design, cooling systems and lightweight structures. The Williams' engineers integrated them into a single, scalable platform. They developed a highly automated, near zero waste process for the creation of fibre reinforced suspension components. These elements provide up to 40% weight reduction over a conventional aluminium wishbone.
Another innovation is the process of forming high-strength 3D structures from 2D materials. It has created an exoskeleton for a battery module, which also contributes to the structural performance of the battery.
Williams Advanced Engineering revealed an innovative lightweight EV platform concept – FW-EVX
Going to @lcv_event this week? Drop by our stand in Hall 3, C3-603 on Wednesday or Thursday to see some of our latest innovations #LCV2017 pic.twitter.com/6wGiuV8e6D

— Williams Adv Eng (@williamsadveng) September 4, 2017
Williams Advanced Engineering Limited is part of the Williams Group
The Williams Group began with Williams Grand Prix Engineering Limited. Sir Frank Williams and Sir Patrick Head formed the company in 1977. Currently, it is celebrating 40 years in Formula One. In that time the team secured 16 F1 titles.
The team's first race was the 1977 Spanish Grand Prix, where the new team ran a March chassis for Patrick Nève. Williams started manufacturing its own cars the following year. Clay Regazzoni won Williams' first race at the 1979 British Grand Prix. At the 1997 British Grand Prix Jacques Villeneuve scored the team's 100th race victory, making Williams one of only three teams in Formula One, alongside Ferrari and McLaren, to win 100 races. Williams won nine Constructors' Championships between 1980 and 1997. This stood as a record until Ferrari surpassed it in 2000.
Williams has 7 drivers' titles in Formula 1. The first of them came in 1980, won by Alan Jones. Then Williams drivers took the honours in 1982, 1987, 1992, 1993, 1996 and 1997 – Keke Rosberg, Nelson Piquet, Alain Prost, Damon Hill and Jacques Villeneuve.
All in all, a fantastic weekend here in Monza. So good in fact, we'll leave you with one more fun fact! #WeAreRacing #ItalianGP #F1 pic.twitter.com/uFtqxejTzm

— WILLIAMS RACING (@WilliamsRacing) September 3, 2017