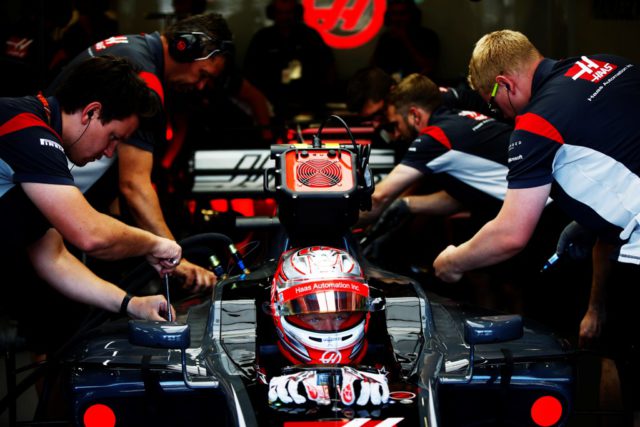 Haas team principal Guenther Steiner previews the Austrian Grand prix. It is a home race of sorts as the Red Bull Ring in Spielberg is relatively close to his hometown of Merano, Italy.
Four straight point-paying finishes and six total this season – one more than you had all of last year. Consistency and sustainability were goals at the start of this year. How are you realising these goals?
"The game has become more difficult. The midfield is much more compact this year. Therefore, it's difficult to get in the points. We've got more points-scoring races, but fewer points. It is tough, but I think we've shown we've made progress as a team and that we are more consistent. Look at our pit stops, for example. They're normally pretty good. It takes time and you cannot buy time. You just need to give yourself time to fix problems and keep on growing. As long as we're showing improvement, I think we're doing well.
"The teams that are there – they've been around for decades. The only thing we can compare ourselves with are the teams that are no longer there – the new startups from around 2010. All of those teams together, they scored a lot fewer points than we have in not even one-and-a-half seasons. I think we can show what we promised. We want to be a player, we want to be successful, but we also know our limitations. All in all, we've done a good job."
One driver had a very good Azerbaijan Grand Prix – Kevin Magnussen finished a season-best seventh – and the other, Romain Grosjean, had a very frustrating weekend. How do two drivers in the same equipment have such different fortunes in a race weekend?
"We can go straight there to our issue, which is braking. It's not that Kevin didn't have the problems with the brakes. With his driving style – for him, it's easier to drive around it or make it less evident. He was not happy with the brakes in FP2. For the race, he had to lift and coast, as well, because we had some issues. With Romain's driving style, the brakes need to be perfect, or as close to perfect as can be. At the moment, we are not there."
P7 ???What a race it was! Had a lot of fun out there and I enjoyed every moment of it. Once again the team did a great job ??

— Kevin Magnussen (@KevinMagnussen) June 25, 2017
The cars are the same, but the drivers are indeed different. How do you tailor a car's setup to best match a driver's preferences and feel?
"The cars as a setup – suspension-wise and aero-wise – are pretty similar all the time. But their driving styles – how they go into a corner – that's a little bit different. In the end, the cars are not far apart. The drivers work with their race engineer, but the cars, in principle, are very similar."
In your role as team principal, how much of your job is spent analysing the racecar and how much of your job is spent managing people?
"I would say analysing the racecar is very little. I know what's going on, but I've got qualified people to do that. The group around Ayao Komatsu (principal race engineer) is doing all that work. They don't need me. Managing people is my main job. That takes a lot of my time. I'm also trying to help them so that they can get what they need. I need to make it possible. They need to explain to me things that are missing, and then I need to find ways to make the team work better. That's my job. Analysing racecars – they don't want me there."
The Red Bull Ring in Spielberg is relatively close to your hometown of Merano, Italy. Do you view it as a home race of sorts?
"Yes, of sorts, but I've got many home races in my life. I have one in Austria, one in Italy, which is Monza, and one in the United States. Red Bull Ring is relatively close to where I come from and is only about a five-hour drive from my hometown."
Austria marks the beginning of a five-race stretch of European races where teams can take all of their transporters and hospitality units to each race. How much easier is this from a logistical standpoint?
"I wouldn't say it's easier, but just more convenient because you have the equipment right there. Back-to-back races are always very difficult for the guys, even if it is in Europe and you have all your transporters. To go from one place to the other by truck, it sometimes takes us as long, if not longer, than the flight would since we have a lot of going back and forth. It is nice to be in Europe with one time zone, though. There is a lot less jetlag. I know the mechanics enjoy being in Europe since it is no more than a two-hour flight home for them. All in all, it is a little bit more convenient, but it is not easy."