Strong, gusting winds limited running by teams on the third day of practice for the 101st Indianapolis 500 presented by PennGrade Motor Oil, but a number of competitors persevered and logged important fact-finding laps.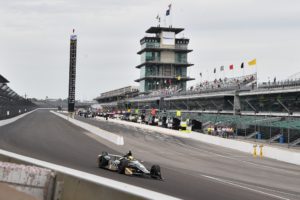 Team owner/driver Ed Carpenter posted the fastest of 408 total laps turned by 21 drivers in the six-hour session hampered by wind gusts reached 40 mph
Driving the No. 20 Fuzzy's Vodka Chevrolet, Carpenter ran a lap of 222.894 mph at the beginning of the day's final hour that was unassisted by an aerodynamic tow from a car in front. Marco Andretti has the fastest lap of the week, 226.338 mph (Monday practice).
"I thought it was important to run on a day like today just because it is a challenge," said Carpenter. The two-time Indianapolis 500 pole sitter is looking to make his 14th start in the race scheduled for May 28. "The wind was very, very gusty, variable. And to me, if you can go out and get comfortable in conditions like that, I think it bodes well for the race car and how comfortable you can be."
"And you never know, it could be this windy on race day."
Another good day of practice at @IMS. Getting the @FuzzysVodka machine dialed in for all conditions! Ready for the wind tomorrow. 📷:IndyCar pic.twitter.com/a2XTsMb97P

— Ed Carpenter (@edcarpenter20) 17 May 2017
Scott Dixon, the 2008 Indy 500 winner and four-time Verizon IndyCar Series champion, clocked the second-fastest lap of the day, 222.599 mph in the No. 9 Chip Ganassi Racing Honda
All four CGR cars turned laps – Dixon logging the most, 47 – as the team honed in on improving car setups before calling it a day with two hours remaining in practice.
"We've been struggling. We had some ideas we needed to try and today felt a lot better. A good improvement," Dixon said.
JR Hildebrand, Carpenter's teammate in the No. 21 Preferred Freezer Services Chevrolet, was third fastest with a lap of 220.553 mph. Hildebrand was the busiest driver of the day, completing 54 laps, with Carpenter turning the second most (52).
"I felt pretty good about the amount of work we were able to do," Hildebrand said. "When we got going initially, we felt it was a little suspect how good of a read we could get on changes since the wind is blowing hard. It was nice to go out there with not too many other people and just run through our own program."
Indianapolis 500 rookie Fernando Alonso, the two-time Formula One champion seeking to make his debut on the 2.5-mile oval, was the only Andretti Autosport driver of the six entered to turn a lap at speed
The 35-year-old Spaniard completed 39 laps with a best speed of 219.533 mph. That ranked him fourth on the day's speed chart.
"Very little running for the big guys, but for me any condition is a good lesson. Today was about that, a lesson about how to drive with strong winds and how to set up the car corner to corner", Alonso said.
"Everything was according to plan. The team, I think, used those runs also to test something on the back (end), the engine, for tuning, and something like that, so I think it was a productive day as well."
Two more days of practice remain before qualifications Saturday and Sunday to determine the 33-car field.