Timo Gottschalk is a German rally co-driver. He won the 2011 Dakar Rally together with Nasser Al-Attiyah. His debut at Dakar was in 2007 with Dieter Depping in the truck category. Gottschalk became Sepp Wiegand's co-driver in the 2012 IRC (Intercontinental Rally Challenge) and returned to Dakar in 2013 with Carlos Sainz. Now he is working with the Volkswagen WRC team.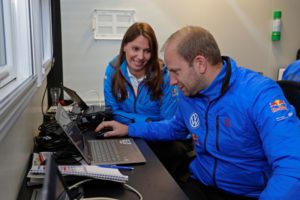 What exactly does the Volkswagen Motorsport weather crew analyse, and where does your data and information come from?
Timo Gottschalk: "We have various people out on the stages. They measure the ground and air temperature, as well as the wind speed. However, they also keep an eye on the sky, measure the strength of the rain, see how damp and muddy the surfaces of the roads are, and check out the state of the ruts after the first loop. I receive all this data and enter it in a list. Our meteorologist Silke Hansen then uses this data to make her forecasts."
How important is the weather crew at the Rally Great Britain?
Timo Gottschalk: "The tyre selection – hard or soft – is one of the key factors at the Rally Great Britain. To allow drivers to make this decision, they have to know what to expect out on the route: what are the ground and air temperatures? How damp or dry is it? The weather crew provides all this information."
This year's Rally Great Britain is taking place two weeks earlier than last season. How will this affect the special stages?
Timo Gottschalk: "As far as the weather is concerned, it should be a bit more pleasant and not quite as cold as last year. The ground temperature could also be a bit higher. However, two weeks is not an awful lot – the weather could be exactly the same as it was last year. In Wales, it is generally very unsettled and hard to predict. You can experience all four seasons in just one week."