Kevin Magnussen did not manage to finish in the points at the Italian Grand prix but hopes for better luck in Singapore.
Haas F1 Team has had its drivers finish inside the top-10 in seven straight races (the team is counting the Italian Grand prix as the team is appealing the Monza disqualification). That's a span covering a variety of tracks and conditions. What does that kind of consistency say about your drivers and your race team?
"I think the team has done an amazing job to get the consistency that we've had this year compared to last year where we had a strong car at a few races, but not a lot of consistency. For a team in its third year, I think it's pretty impressive to make such quick progress."
Have recent events emboldened the team to where no stone will be left unturned as Haas F1 Team vies for fourth in the constructors' standings?
"We're doing everything we can to get the results and to deliver as well as we can. I think we've done a good job to be that close to Renault in the championship for fourth, especially when you consider the bad luck and some of the problems we've had at a few races this year. It shows that we've got a really good car and that there's potential for more."
The team had some trepidation heading into the Hungarian Grand Prix, as the tight track didn't play to the strengths of the VF-18, at least on paper. When the Hungarian Grand Prix was over, Haas F1 Team had another double-points finish. There was originally some trepidation about the Singapore Grand Prix because of its tight layout. Does that trepidation still exist?
"We were expecting the car to be less strong at the small, twisty, slower tracks. We had some bad races in Monaco and Canada. It seems like we worked out some of the issues and improved the situation on those kinds of tracks. In Hungary, we had a good performance. We'll see in Singapore. I think we should be able to fight at the top of the midfield and fight for best of the rest."
What did you find that made your car perform better on a slower, tighter track?
"Just a combination of many things, as it's a balance between many different things in a car that creates the performance. We've worked on the things we felt were performing well – tires, balance, setup, all those things – and as a whole, we've improved the package on slower tracks."
With the experience of Hungary and the collective experiences from this summer, what are your expectations for Singapore?
"My expectations are that we can fight at the front of the midfield and that we can take the fight to Renault and fight for best of the rest like we've done many times this year."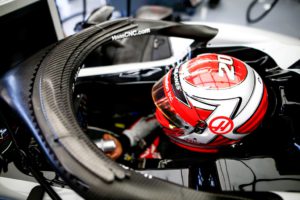 What are the challenges of the Marina Bay Street Circuit and how do you overcome them?
"The biggest challenge is probably physically, as it's very hot and the race is extremely long. It always goes close to the two-hour limit. Physically, it's a tough track, mentally as well. You don't get a lot of rest on the track, and there are 23 corners, so you're always working. There's not a lot of time to relax over a lap in Singapore."
Singapore is one of only three night races on the Formula One schedule, but it's also the original night race. Do you like competing at night?
"I would say yes. It doesn't really make a big difference. You don't notice it so much. It's cool. It looks nice."
Can you describe the atmosphere generated by a night race? Is there a heightened sense of excitement and anticipation because the Singapore Grand Prix is so visually stimulating?
"It's not something that a driver really thinks about. It looks cool on television. The cars look a lot shinier and spectacular."
Singapore's layout forces drivers to run close to the track's walls for the majority of a lap. While the margin for error is always low in Formula One, is it even lower at Marina Bay Street Circuit?
"Yes, it is. If you miss your braking or get on the power a bit too early, there's a wall and you'll be likely to hit it. This makes the consequences a bit bigger for any mistake, which is cool."
How do you handle the bumpy nature of Singapore's layout, and are there specific sections of the track you have to remember to avoid?
"There are some bumps around the track. You're trying to avoid them as much as you can. It's not possible to avoid all of the bumps as you need to take your racing line. It makes it easy to lock up in some places."
There are 23 turns at Marina Bay Street Circuit, the most of any Formula One venue. Which ones are the most treacherous and why?
"Turn five. It's pretty high speed and there's a wall very close to the track."
In addition to its physicality, is the Singapore Grand Prix mentally exhausting because of the close proximity of the walls, its multitude of turns and high safety-car frequency?
"Yes it is because it goes on for a long time, so your fatigue affects your mental performance as well. It is a tough race."
Despite the mental and physical nature of the Singapore Grand Prix, drivers love it. Why?
"I think because it's a challenge. It's a different weekend to the rest of the calendar. It's because it's unique."
Where are the overtaking opportunities at Marina Bay Street Circuit?
"Turn four and turn seven after the straight."
What is your favourite part of the Marina Bay Street Circuit?
"Sector two. It's cool, twisty, and fun."
Describe a lap around Marina Bay Street Circuit.
"Bumpy, twisty and hot."
An evening well spent!

Take a behind-the-scenes look at our night with @Haas_Automation and its guests. We always love meeting new friends. pic.twitter.com/0KCMDNoP0Z

— Haas F1 Team (@HaasF1Team) September 7, 2018