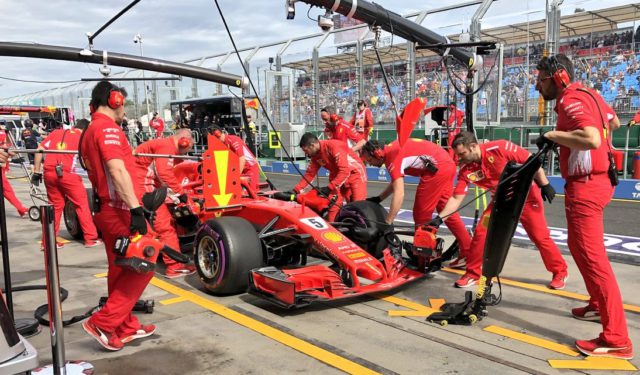 Sebastian Vettel topped the final practice session for the Australian Grand Prix as one of just three drivers to complete a flying lap on slick tyres in drying conditions.
Heavy rain on Saturday morning left the Albert Park circuit wet for the start of the session with puddles and rivers dotted around the track.
However, over the course of the 60 minute session it dried just enough for Vettel, Ferrari teammate Kimi Raikkonen and Sauber's Marcus Ericsson to set lap times on the ultra-soft slick compound in the final moments.
Vettel's time was 2.432s clear of Raikkonen, who got held up by Ericsson towards the end of his flying lap.
While Force India opted to run just a single installation lap for each driver. Prior to the three slick tyre runs at the end of the session, Max Verstappen held the fastest time. With a late effort on intermediates to lead Carlos Sainz and Daniel Ricciardo.
The two Mercedes drivers were 7th and 8th after leading the way with 10 minutes remaining. Valtteri Bottas went out on track at the end of the session on ultra-soft tyres. But he ran out of time to complete an outlap and start a flying lap.
Lewis Hamilton completed just seven laps after an issue in the garage forced the team to delay his arrival on track. But he seemed to have no further problems once the car was up and running. The McLarens also looked quick prior to the final ten minutes. And they were less than a tenth off the Mercedes drivers in similar conditions.
With limited spares at the first race of the season, Force India opted not to run its cars in the tricky conditions and both Esteban Ocon and Sergio Perez did not a set a lap time.
The forecast is set to improve ahead of qualifying, with dry conditions for the first competitive session of the new season.
INITIAL CLASSIFICATION – END OF FP3

A drying track and some good timing made for a jumbled final practice ?#AusGP #F1 pic.twitter.com/GHuLvWFCLg

— Formula 1 (@F1) March 24, 2018