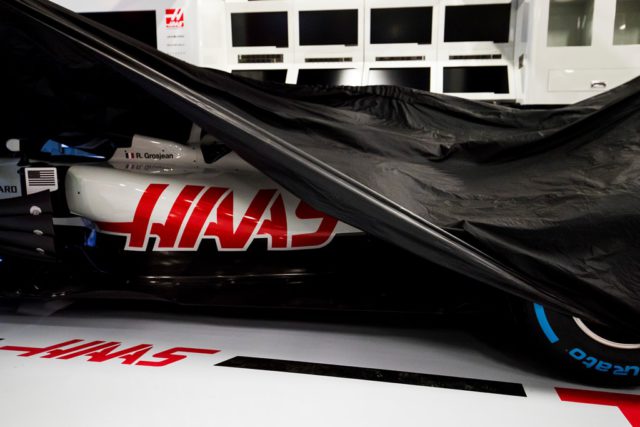 Haas team principal Guenther Steiner previews the Formula 1 test at the Catalunya circuit. He explains what the team's aims and expectations are.
From the time the car first turns a wheel during the team's production day to the first week of testing and then the second and final week of testing, what are you looking for and, more specifically, building toward?
"In the beginning, you just try to find the balance in the car. You learn what to do to find the balance to put the drivers in a spot where they like the car. Then you work on reliability. It's stating the obvious, but when you have reliability, you learn more and you get more done."
Explain the protocols for a day of testing. What do you need to do to ensure accurate data capture?
"Everybody just needs to do their job. Formula One is so specialized and it operates at such a high level that focus and attention to detail are very important. Everything needs to work and, particularly, all the sensors on the car need to work. That's where you get a lot of your data.
"All our protocols and methodologies are running pretty smoothly. This is our third year of doing this. What we're trying to do is get better prepared for the racetrack so we're not having the ups and downs like we had the last two seasons. We are trying to stabilize that. It's one of our biggest goals this year."
What are your expectations for this year's test?
"The expectation is always the same. We want to run as much as possible and to learn as much as possible. We've now got more people working back at the factory that can analyze data. Before, this was an area where we were perhaps a little weak. We're growing. We're always getting better, and to get better you need time. With having more people, we can do more to get prepared for the first race."
Sun setting on a solid shakedown in Spain! Filming Day ✅ #HaasF1 pic.twitter.com/ptPWK3Ael0

— Haas F1 Team (@HaasF1Team) February 23, 2018
For the first time in team history, you're going into the season with the same driver line-up you had last year – Romain Grosjean and Kevin Magnussen. How helpful is it to have that continuity?
"You don't actually realize how helpful it is because you don't have a worry. You know the guys, you speak to them, and everything is very smooth. It's a good feeling."
Brakes have been the team's nemesis in its two years of existence. How much focus have you put into the car's brake package this year to hopefully eliminate the kinds of problems you've experienced?
"We started last year working with another brake manufacturer. For this year, we should have a package that we're all comfortable with. That was one of our goals. We haven't tested on the car yet, but we've had dyno tests. When we go out in Barcelona, we'll know what we've got. Our aim is to run just the one manufacturer everywhere. I hope we've achieved that."
Grosjean has been with the team since its beginning, so this is the third car he'll help develop. When it comes to brakes, and knowing how particular he is with his brakes, how important is his history with the team to find the feel he's looking for?
"When you know somebody for three years and you respect him, it's good because you don't doubt. You know his strengths and his weaknesses. I think the combination of our two drivers is very good. With Kevin being here the second year, the same applies to him. We know his strengths and weaknesses. We'll go into the first race better prepared than we were before. We can make a step forward this year."
Grosjean's feel for the brakes is different than Magnussen's. When you have such a difference between driving styles, how do you find a brake package that suits both drivers?
"If the brakes are good for Romain, then they're good for Kevin. It is not a worry for us. If the brakes work and Romain is happy, Kevin will be happy too."
The car build is an arduous, stressful process, and it's immediately followed by an arduous and stressful two-week test. How do you manage personnel to stay sharp and avoid burnout before the season even starts?
"We've gotten a lot better over the last two years. We've learned from past experiences. The first year everybody was there a long time. Last year, everyone was there a shorter time. This year, some of the people are there an even shorter time. You learn, and there's less risk involved as you know more and how to work with your suppliers. We can narrow it down so when people get to Barcelona, and because we build our cars in Italy, they've at least not been away from home for three weeks already. They've been away the least amount of time as possible. We fly them home for the weekends."
??? Looking good on track.#VF18 #HaasF1 #FilmingDay pic.twitter.com/y1G1XfT30F

— Haas F1 Team (@HaasF1Team) February 23, 2018
"When they get to Barcelona they shouldn't already be worn out like maybe they were in the first year. Barcelona is tough for everybody. We've got more staff onboard now. We've got a nightshift going. We're just better prepared for our third year. We always try to learn from what we've done in the previous years and better it."
Can you compare this year's car build to last year's, and what did you learn from last year that you applied this year?
"We have more confidence. In the first year, there were more risks. We didn't have the experience to know what was truly needed, so we planned for a variety of contingencies. You have to provide for them even if they're not necessary. Now you know how things happen, so you can just refine all your processes to get the result you want. That's the biggest thing you can do with time. Next year, we'll be even better."
Change is a constant in Formula One, and a change at testing this year is a repaved circuit. How will Barcelona's new surface affect your learning curve, specifically when it comes to tires?
"There's a lot of talk about how it will be, but nobody actually knows. As I understand it, they've developed a very good surface from experience with other tracks. They've tried to run as many cars over it as possible before we get on track. We'll just see when we go there. On the first day what you see will not be what it will be. I don't know what day it'll set in – when the track stabilizes. In fact, I don't think anybody knows yet. What they did is for the benefit of everybody. It's apparently a good, grippy surface, so it should make the racing more interesting."
What is your measure of a successful test? Mileage? Speed? Reliability? Consistency? All of the above?
"You look at reliability, then you look at how fast you can run the car. Then it's what you need to do to get it ready for Australia. It's a combination. You just dig in there and keep on going. You try to do as much mileage as possible. If you do a lot of mileage, you learn about the car, you get data, and then you can better the car."
When the test is over, where do you want to be?
"Hopefully, we are reliable. I hope we don't have a lot of issues. That always helps and it gives you confidence for going racing. This year we only get three engines, so basically, every engine has to last an average of seven races, which is quite a lot and demanding. Then we need to collect as much data as possible so we can analyze and get prepared for the first race."
It's called winter testing for a reason, and that's because it's usually cold. Australia, home of the season opener, is typically warm. What can you take from Barcelona and apply to Australia?
"There are a few elements you need to refine for Australia but, normally, what you learn in Barcelona you can take straight to Melbourne."