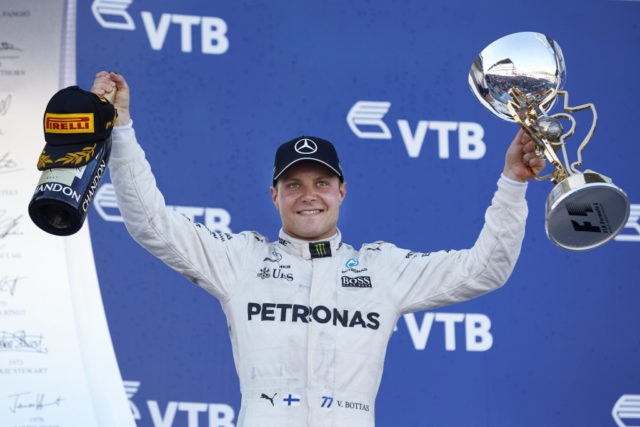 Valtteri Bottas was typically calm and reserved after he won his maiden Formula 1 win in the Russian Grand prix. He still was really happy with his achievement, which according to him was surreal.
"It's going to take a while to sink in. Normally I'm not that emotional but hearing the Finnish national anthem was very special for me", Valtteri Bottas admitted. "It's all a bit surreal, the first win and hopefully the first of many. It was definitely one of my best races ever. The pressure from Sebastian [Vettel] wasn't too bad; the main issue was with the lapped cars, trying to get past those. It was tricky to pass them without losing time. I also had a lockup with about 15 laps to go that hurt the pace, but it was manageable. I asked for a bit of radio silence just to get on it and focus. I'm sure this victory will give me lots of confidence going forward. I knew I could do these results, I always trusted my ability, but this result confirms it."
"We're all so pleased to see Valtteri on the top step of the podium. A driver's first win is always very special but especially when it comes like it did this weekend, off the back off some difficult sessions. That makes victory all the sweeter", technical director James Allison added.
Valtteri Bottas: "It's going to take a while to sink in"
Valtteri received congratulations from almost everyone in the pitlane. His predecessor in Mercedes Nico Rosberg wrote on Twitter: "congrats @valtteribottas!! you really deserve it. mega job. happy also for everyone at merc & especially for everyone on your car!"
"Well done @valtteribottas and Congratulations and thank you to long-time partners", two-time F1 World Champion Mika Hakkinen added.
"Well done son… 1st one always massive", was Mark Webber's message.
Fernando Alonso, Johnny Herbert, Ferrari, Honda, Alex Wurz also send congratulations through social media. At Williams were really moved as Valtteri was their driver until the winter.
Wow… what a few hours!

Hear from the man of the moment @ValtteriBottas!@MercedesBenz @MercedesAMG @F1 pic.twitter.com/xN7tfn2xdD

— Mercedes-AMG F1 (@MercedesAMGF1) 30 April 2017
When you wake up the next day…
And it wasn't all a dream…

7⃣7⃣???#F1 #RussianGP #Winner pic.twitter.com/RqaZm6UO3O

— Mercedes-AMG F1 (@MercedesAMGF1) 1 May 2017