Hayden Paddon will drive a New Generation i20 R5 on the Rallye Sanremo later this month (March 29-April 1). This will be his first taste at the wheel of Hyundai Motorsport's latest R5 design and first race with his new co-driver Seb Marshall, who was working with Kevin Abring. Marshall will take the place of John Kennard after he announced his retirement from the sport.
1/3 To answer the question that seems to be asked more & more often lately; the decision has now been made &, after 12 great years, I will..

— John Kennard (@JKCoDriver) 14 March 2017
2/3 step down as WRC co-driver to @HaydenPaddon after Rally Finland..scene of my first ever rally as a co-driver! A sad day, but one that..

— John Kennard (@JKCoDriver) 14 March 2017
3/3 had to come someday. But I'll still be around, to help achieve the goal we've all worked toward for so long; bring the WRC title to NZ! pic.twitter.com/IHu5creEqo

— John Kennard (@JKCoDriver) 14 March 2017
Rally Sanremo is the second round of the premier Italian national championship. It will form part of Paddon's preparations for the Tour de Corse, the first pure tarmac rally of this year's WRC season. Prior to that, the Kiwi will complete his pre-event testing in the Hyundai i20 Coupe WRC.
The event will offer Paddon the opportunity for more time behind the wheel on tarmac, furthering his continuous preparation and improvement plan on the surface. Much of the 177km of special stages will take place on a similar type of road to those which make up the WRC stages on the French island.
1/3 Following @JKCoDriver's news I'm delighted to finally confirm that I'll take up the mantle of co-driving for @HaydenPaddon pic.twitter.com/qvnrDpCH1W

— Seb Marshall (@sebmarshall) 15 March 2017
2/3 JK will sign off at @RallyFinland so my debut in #WRC will be Germany. HP & I already been doing lots of testing, loving '17 WRC car!

— Seb Marshall (@sebmarshall) 15 March 2017
3/3 First time we compete together will be at one of my fav events… the classic Rallye Sanremo in an @HMSGOfficial #i20R5 in two weeks.

— Seb Marshall (@sebmarshall) 15 March 2017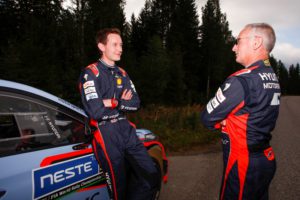 Marshall has more experience with the New Generation i20 R5, having worked with the Customer Racing department throughout the development phase of the project last year.
As well as the WRC pair, the crew of Chewon Lim and Martijn Wydaeghe will also enter the event. The rally will be their third event in less than a month at the start of a busy year for the pairing as part of the Hyundai Motorsport Driver Development Program.
Paddon said:
"It'll be my first time at Rallye Sanremo and I'm really looking forward to it. Competing the week before the Tour de Corse should be the perfect warmup for that event. It will be a good opportunity to get some more mileage on tarmac on very twisty and demanding roads that are similar to Corsica. The Italian drivers who know the stages will be very fast, while it'll be our first time there so we're not focusing on results, but instead concentrating on development and improvement for the future."
"The whole purpose of the rally is just to get more time behind the wheel and to get more comfortable on tarmac. The speed will be a little bit different but I'm excited be able to drive the New Generation i20 R5 for the first time. With Seb sitting in the car with me, it's also a chance for us develop our partnership with an eye on the future."
Hyundai Motorsport Customer Racing department manager Andrea Adamo said:
"Competing in the Rallye Sanremo with Hayden is a great opportunity for the Customer Racing department to add to some interesting mileage on tarmac, as we continue to make advancements with the project in order to support our customers. We will have a number of teams running with the New Generation i20 R5 at the event, so it will be a busy weekend, one we hope will be successful for our customers, as well as Hayden and Chewon. For Hayden, it will be also a great opportunity to prepare for the Tour de Corse. As testing is limited in WRC, he will be able to get some more time behind the wheel of another type of i20, and under the conditions of another tough event."