Max Verstappen became an instant sensation last season in Formula 1 after getting a place in the Red Bull F1 team. Now he is ready for the new challenge.
As part of the F1 launch week (all teams present their 2017 cars this week) the Dutch showed his new helmet and explained how he made its design.
"You know drivers always try to modify our designs little bit. So I went a little bit different this year. As you can see the colors are different – no orange anymore for me this year", Max Verstappen explained. "Of course my sponsors [are] in the front. For the side we had a different approach with the Red Bull [logo] as well – now it is more close to what it is on the car. It got a little bit bigger and I had to adjust my design."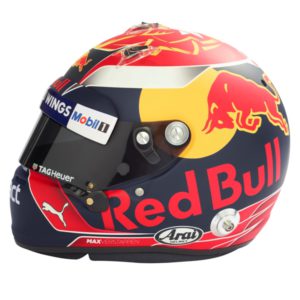 "On the top from Spa onwards I had a lion on it. I modified the lion so it looks a little bit more aggressive. And as you can see my logo's in here – my personal one and this bit looks like the eyes of the lion. So I think that looks pretty cool and, you know, you have to have a bit of a difference between me and Daniel [Ricciardo]. We both had a blue top so I had to modify something.
Now it's pretty clear there is a little bit of a difference between us as well."
"Just number at the back which is mandatory. Actually looks pretty cool so yeah, I'm pretty happy with it. Hope you, guys, are as well."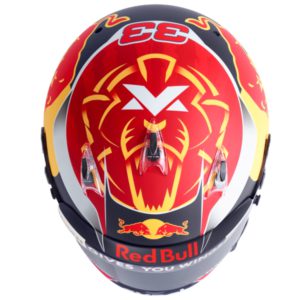 Max Verstappen: "I modified the lion so it looks a little bit more aggressive"
Max's father Jos Verstappen said that his son might not be in the title fight in 2017.
"There is a lot of talk that he will win the championship and so on. My personal opinion is, and that's my personal opinion, that it's just one year too early. I do think that the gap to Mercedes has to become smaller. Max has more experience now, he knows the tracks. Last year he won one race. I just hope that he can win a couple of more this year. Three or four races would be very nice, and this is possible. The expectations are very high", Jos told Dutch television channel Ziggo Sport.
Dutch with a golden touch ???
What do you think of @Max33Verstappen's fresh new lid design? #givesyouwings #F1 pic.twitter.com/LHU4XsphbH

— Red Bull Racing (@redbullracing) 21 February 2017