Finally, it is time for Marc Marquez and the Repsol Honda Team RC213V to get back out on track, a goal the seven-time world champion has been pushing hard for all winter.
For reigning MotoGP World Champion Marc Marquez, the Sepang Test represents a milestone in his recovery from shoulder surgery.
After riding a practice bike the week before the test, Marc Marquez and his physiotherapist Carlos J. García have increased the intensity of their programme ahead of Sepang
"When I woke up, it hurt. It's difficult, the physio. Doing this in the morning, I'm very sleepy. I haven't skipped a day, we started December 11th and we didn't train on the 24th, 25th, 31st or 1st. These last few weeks are when it has hurt the most because everything is already set," Marquez reflected before one of his final physiotherapy sessions at home in Cervera. "The hardest thing is the psychological side, I've done this since December 11th for two and a half hours in the morning and two and a half hours in the afternoon."
"There are days when he is very patient, especially in the first phase of the recovery process. Then, little by little, when the sling came off he was more anxious. 'I've had the sling removed, I can do it!' and I would tell him 'No, you can't do it, do not move your shoulder.' There it was necessary to stop him a little bit because if it were up to him, on January 7th he would have been on a bike. He only wants to be on a bike!" explained Carlos, the physiotherapist who has worked exclusively with Marquez since December.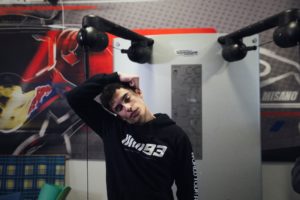 "They took the wheels off my bikes!" interjected Marquez
"There were orders for all the bikes to be dismantled. When we went to the gym and we passed by some bikes and he climbed onto one, assumed the riding position and made noises as if he were on track. That's how much he wants to get on a bike again," Carlos said as he continued to work on Marquez.
"Don't say that! They will say: 'This guy is crazy!'" beamed Marquez as his shoulder was again pushed to the limit of its current mobility.
While progress may not have been as rapid as Marquez had envisioned, Carlos remains certain that the surgery and subsequent recovery has been beneficial:
"The shoulder is better than during all of 2018, without a doubt. Regarding his mobility, we are at 90%. What he does in terms of muscle to move his shoulder and arm is maybe 75-80% in terms of mobility strength. We are in this phase of giving stability to the entire shoulder complex. The shoulder has to remain stable; his body has to react without him focusing on his shoulder. He has to disconnect and not think about the shoulder, focus on riding and have his body reacting."
"Until I get on the MotoGP bike, I won't know what shape I'm in. I am aware that it will be quality over quantity in terms of the amount of laps I do. More than anything, that's to avoid causing tendonitis or similar. I am also aware that if in the test I can't put in the laps that I would like, it is only a test. We will all leave Malaysia with zero points. I have to be prudent and not throw away the hours I've spent recovering, the two months I've been recovering and been patient," said Marquez as moved from the physio table to the gym next door.
Now Marquez and the Repsol Honda Team head for the three-day Sepang Test
It will not only allow Marquez and the Repsol Honda Team to assess the 2019 RC213V, but also evaluate the condition and progress of his left shoulder.
Official Test Rider Stefan Bradl will take to the second Repsol Honda Team RC213V as Jorge Lorenzo continues to recover from a broken scaphoid in his left hand.
The Repsol Honda Team then travel to Qatar for the final pre-season test on February 23 – 25 where Marc Marquez will be joined again by Jorge Lorenzo.
Después de un largo invierno con 79 sesiones y 217 horas de recuperación, llega el momento de probarme en el primer Test de Sepang! ✊?
After a winter with 79 sessions and 217 hours of recovery, time to try myself in the first Test in Sepang!?
Full video: https://t.co/9GsMHOBQit pic.twitter.com/vyYO0nBwn6

— Marc Márquez (@marcmarquez93) February 5, 2019