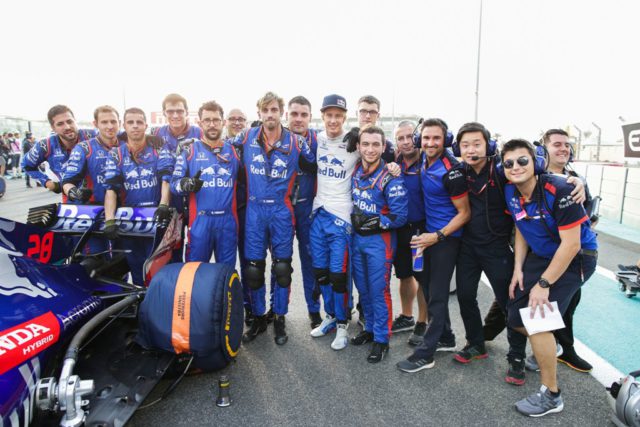 The Toro Rosso team thanked Brendon Hartley for his contribution to the team during the past season in Formula 1. The New Zealander lost his place at the Faenza team. Toro Rosso confirmed a couple of days ago that Alexander Albon will drive for them in 2019 alongside Daniil Kvyat.
The statement was as follows:
"After a hugely successful sports car career, Brendon returned to Red Bull's F1 family, making his Formula 1 debut with Toro Rosso at the 2017 United States Grand Prix."
"Brendon has played an important role in the development of our partnership with Honda and his experience and feedback has proved highly beneficial. We wish Brendon all the best for the future."
Scuderia Toro Rosso Team Principal, Franz Tost, said: "We would like to thank Brendon for his hard work with the team. It was not an easy task to move from sports cars to Formula 1, especially at short notice. His consistency over the final four races of 2017 earned him a 2018 race seat and, while ultimately we were not able to continue into 2019, he has been a key part of the team and aided the development of the Honda powertrain. We wish him all the best in his future endeavours."
Earlier this week Honda expressed its gratitude as well
"He was very strong on the engineering side, always giving very precise and useful feedback, based on his great experience working with hybrid power units and as a double world champion and Le Mans winner in LMP1", Honda F1 technical director Toyoharu Tanabe said.
"On behalf of Honda, I would like to express my thanks to Brendon for all his hard work this year. Brendon is always a friendly and charming person who immediately embraced Japanese culture and Honda's way."

Yamamoto-san ?️@BrendonHartley #ThankyouBrendon? pic.twitter.com/50ps2jslVw

— Honda Racing F1 (@HondaRacingF1) November 27, 2018
And more kind words from Tanabe-san ?️

"Everyone at Honda enjoyed working with Brendon throughout the year…"@BrendonHartley #ThankyouBrendon? pic.twitter.com/Km5TiGGNKx

— Honda Racing F1 (@HondaRacingF1) November 27, 2018
Hartley himself published a short message
"I left the circuit on Sunday with my head held high. I'm very proud of my story and journey so far but am left feeling I have unfinished business in F1. For the moment that has been put on hold. I've hit speed bumps before and I am a strong believer that tough situations make you stronger, it also helps that I have a great NZ support crew, family, friends and wife", he said.
"I also want to thank my trainer Rich and almost all of the 500 strong Toro Rosso staff who I have stood beside and have enjoyed working with this season, all of the engineering team, the mechanics, marketing, PR, logistics, hospitality crew, factory staff and of course all at Honda Racing. I really do appreciate the support I have received from fans across the globe this year, I still have plenty more pages to write in my story and will make the most of the opportunity's in the next chapter!"