Sebastian Vettel got a reprimand and a €25,000 fine for the Q2 scales incident.
The stewards of the Brazilian Grand prix investigated the Ferrari driver for two offences. The first one was that he did not turn off his engine at the scales. The second – that he broke them.
After reviewing the video evidence the stewards observed that Vettel did turn off the engine. That did not happen according to the procedure but still, the requirement was fulfilled.
Vettel though did not follow the FIA officials instructions and subsequently broke the scales
Thus the stewards gave him a reprimand and the fine.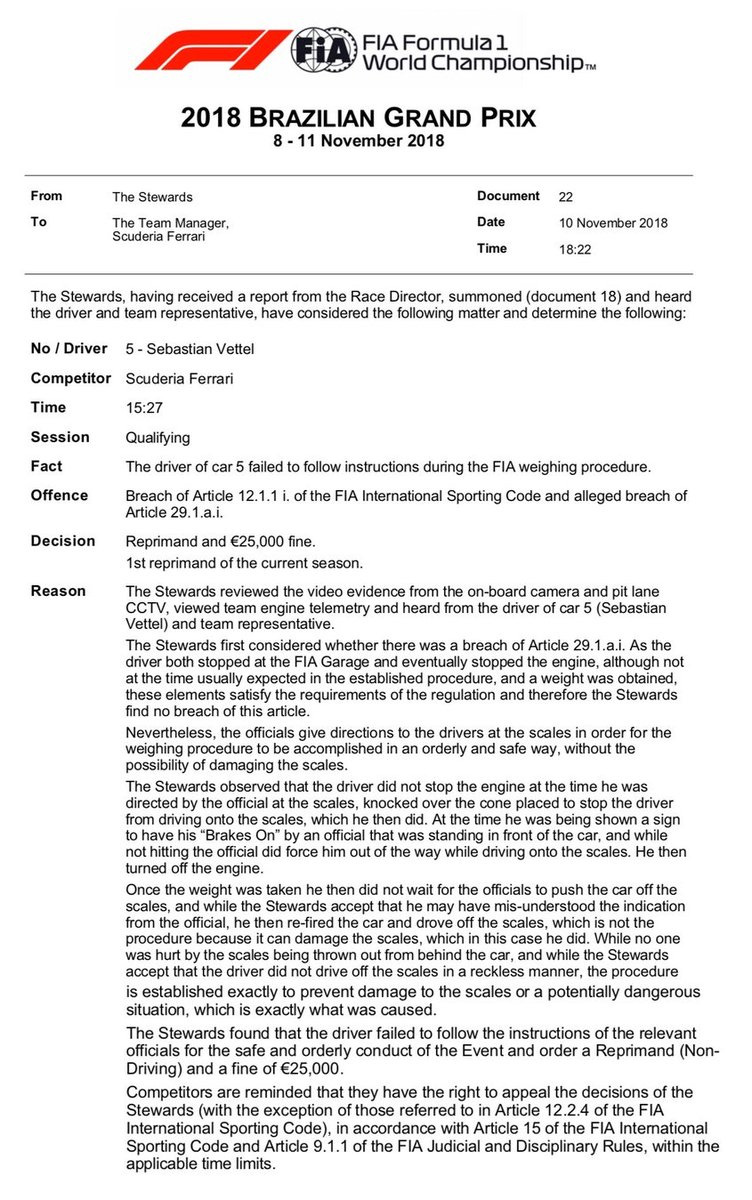 "I think what happened today with the scales is clear, so I believe we should just talk about qualifying", Vettel commented.
"Today we had some good laps and tire management was really good. On my last run in Q3, I made a small mistake in Turn 8 and that cost me some time and momentum. I knew I had to push a little more, maybe it would work and maybe not, and in the end it didn't work, but I am not complaining, as the car felt really good to drive. Starting on the Option (Soft) tires tomorrow may be useful for the race, unless it rains of course: we also have an estimate of what the disadvantage might be right at the getaway, through having less grip, but it's a very short run to Turn 1, so we'll see. I think a lot will depend on the job we do at the start to get everything right".
No grid penalty imposed by the stewards. #Seb5 gets a reprimand and EUR 25,000 fine #BrazilGP

— Scuderia Ferrari (@ScuderiaFerrari) November 10, 2018
Saturday at @InterlagosTrack. #BrazilGP pic.twitter.com/tmRGh1iO8Z

— Scuderia Ferrari (@ScuderiaFerrari) November 10, 2018