The McLaren team got a real boost from the seventh place Fernando Alonso managed to get in Singapore. Now the Spaniard says he is aware that the next races in the 2018 Formula 1 calendar will not be as favourable for his team but he still hopes for a good classification.
"It feels like a long time since we last raced in Russia as the race was much earlier on the calendar last year. It also feels longer for me since I didn't make the start due to reliability issues, so I'm looking forward to finally racing in Sochi again", Alonso said.
The things you find when you Google yourself… ?

The latest Grill the Grid is here, with @alo_oficial and @svandoorne!

Hear plenty of other stories from the pair here >> https://t.co/BVQD58vwCZ pic.twitter.com/drxKfbhcoi

— Formula 1 (@F1) September 21, 2018
"Last weekend was definitely a boost for everyone. We have had at least one DNF over the last few races, so crossing the line with both cars was positive, and something we need to keep working on every race. It was great to get points too, and the aim is always to keep scoring at every possible opportunity."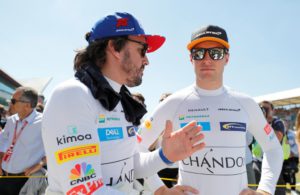 Alonso: Sochi is a fun circuit with a very interesting and unique layout
"We know some of the coming races won't be as favourable to us as Singapore, and there will be tracks that won't suit our car as much. With every race we're pushing hard, learning a lot and trying to maximise what we have. Sochi is a fun circuit with a very interesting and unique layout with its 90-degree corners, so let's see how our car performs there."
Stoffel Vandoorne added that he hopes McLaren to continue its progress in Russia.
"Although I had a disappointing qualifying in Singapore, we once again showed that our race pace is stronger, so it's important that on my side I can get the best result possible on Saturday to give us the best chance on Sunday", he continued.
"I felt very comfortable in the car, we had pace and I felt like we could keep pushing. Strategy and tyre wear will once again be very important during this race, and especially getting a good read on the durability of the Hypersoft tyres from Friday onwards."
"This track won't be exactly the same for us in terms of performance as Singapore, as the layout is very different and it's a challenging configuration. But I'm focussing on each weekend individually, race-by-race. Hopefully, we can have a smooth Friday and start the weekend strong so we can make the most of every session."
#OnThisDay in 1988, @Prost_official won the #PortugueseGP at Estoril, making it win number 12 for the legendary MP4/4 that year. ?? pic.twitter.com/DwMD1hzP4H

— McLaren (@McLarenF1) September 25, 2018