Rally Turkey provided a thrilling spectacle over the past weekend with teams having no real idea what to expect on the roads around Marmaris. The new rally saw title rivals Thierry Neuville and Sébastien Ogier both retire from the race allowing in-form Estonian Ott Tanak to clinch a third victory in a row and put himself firmly in the frame for the FIA World Rally Championship.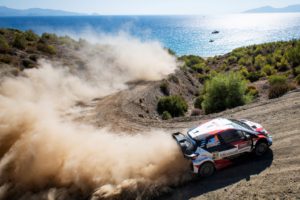 Rally Turkey was the first step into the unknown since the Coffs Harbour-based 2011 Rally Australia
Turkey does have a WRC history with previous events running in Antalya and Istanbul. But the roads around Marmaris were all-new to championship competitors.
Ahead of the two-day recce, the crews and the teams had no real idea what they were letting themselves in for.
Representatives of the manufacturer teams attended a WRC Candidate event in late October last year. Only then was Rally Turkey passed fit for calendar inclusion by the governing body the FIA.
Ahead of last week's event, crews were supplied with onboard footage of the stages to familiarise themselves. Opinion is, however, split on how useful the film is. Some drivers watched it over and over, while others felt it offered a false sense of what was coming and preferred to wait for the real thing.
A new event means new pace notes
They are the vital description of the road the driver calls to his co-driver on the two-day pre-rally recce. The co-driver calls it back when they come back through the corners at rally speed.
Elfyn Evans' navigator Dan Barritt revealed: "The roads are so rough. We're restricted to 50mph on the recce, but you try writing at 50mph when you're being driven down roads so rough you wouldn't dream of taking your car there in the first place. All the co-drivers re-write their notes to make them easier to read back, which is why you rarely see a co-driver out after dark in the run-up to a rally."
The next race is a familiar one, Rally GB in Wales which takes place between October 4-7.
#WRC | The entire @MSportLtd Ford World Rally Team worked incredibly hard through tough stages at #RallyTurkey. Here's an on-board look with @TeemuSuninenRac who finished 4th overall. pic.twitter.com/8AKAg4h380

— Ford Performance (@FordPerformance) September 16, 2018