Since partnering in May 2017, Racing Point Force India F1 Team has surpassed their halfway fundraising target by raising over £165,000 for UK-wide specialist-support charity Breast Cancer Care. They are on track to double this figure by the end of 2020.
The innovative partnership between Racing Point Force India and Breast Cancer Care has forged a global platform for breast cancer. The team is raising awareness of the disease within the Formula One arena for the first time.
Racing Point Force India aims to go further in their efforts by raising £250,000 for Breast Cancer Care by 2020. The most recent fundraising activities took place during the British leg of the Grand Prix at Silverstone. These ranged from auctions, raffles, car washes and collections, to water bottle donations in collaboration with their partner, the Best Water Technology Group.
The partnership is raising vital awareness of breast cancer within the Formula One community. That happens by sharing inspiring stories of people affected by the disease. Four people's names will be on the Racing Point Force India cars at various races throughout the season. This way the team works on telling people of the impact a diagnosis of breast cancer can have on an individual and their loved ones. The first two names appeared at the British Grand Prix: Carter Baldock-Hubbard and Stuart Weaver. Carter's mother, Tina Baldock, had the diagnose breast cancer when she was 14 weeks pregnant. She gave birth to Carter just one week after finishing chemotherapy. Stuart Weaver is living with incurable secondary breast cancer. He was happy at the opportunity to raise awareness of breast cancer in men. The further two names will come at the US Grand Prix in October.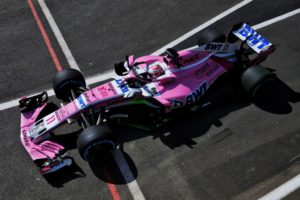 Force India smashes fundraising target for Breast Cancer Care and gets set to double their donation by 2020
Steve Curnow, Commercial Director of Racing Point Force India:
"We are immensely proud of what we have achieved so far in partnership with Breast Cancer Care. Their work is making a real difference for all those affected by breast cancer. And we are doing our part to increase awareness not only of Breast Cancer Care's contribution but also of the personal stories of the individuals who have been touched by this disease. We will be renewing our efforts to raise funds for the charity, with our target of a quarter of a million pounds edging closer by the day, and we are looking forward to seeing the pink ribbon on our cars again soon."
Steve Lucas, Director of Fundraising and Marketing at Breast Cancer Care:
"We are incredibly grateful to Racing Point Force India for going above and beyond with their support – not just with their fantastic fundraising but by honouring Tina, Carter and Stuart with a once-in-a-lifetime opportunity. It was a special day to remember for all involved that put people affected by breast cancer at the heart of the Formula One community. The £165,000 that Racing Point Force India have raised to date will help Breast Cancer Care to meet the increasing demand on our specialist-support services and bring us closer to being able to support the 619,000 currently living in the UK following a breast cancer diagnosis".