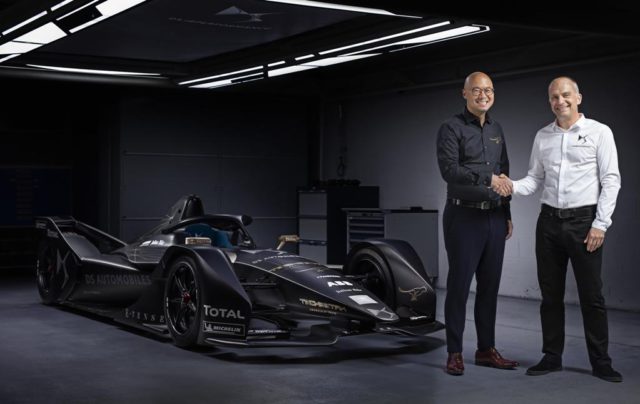 DS Automobiles will run its new car – the DS E-TENSE FE 19 – in association with TECHEETAH. This will start with the 2018/2019 season.
This partnership brings the first chapter of the brand's involvement in the series alongside Virgin Racing to an end. That partnership harvested five race wins, sixteen podium finishes, six pole positions and three fastest race laps. In the course of the last three seasons, DS Virgin Racing has finished twice in the Teams' top 3.
The presentation of the new team will be on October 1, 2018,
The start of Season 5 will be in Riyad, Saudi Arabia, on December 15.
From 2018/2019, the duration of Formula E races will be 45 minutes plus one lap, with no mid-race car swaps. Next season's single-seaters feature significantly different styling and aerodynamics. The power will come from new 250kW electric motors, while energy management will continue to be a fundamental part of the championship.
Xavier Mestelan Pinon (Director, DS Performance):
"We would like to thank Virgin Racing for the three wonderful seasons we spent together. Our involvement in Formula E is an integral part of DS Automobiles' commitment to the electrification of its model line-up. The DS E-TENSE FE 19's development began several months ago with the objective of being in a position to challenge for the top step of the podium from the opening race of the 2018/2019 campaign. Our association with TECHEETAH, who recently celebrated winning the 2017/2018 Drivers' Title in addition to coming second in the Teams' standings, is geared towards this target. We are fully aware of the qualities of the men and women who work at TECHEETAH. And I am convinced that our two entities will dovetail perfectly."
Edmund Chu, President (TECHEETAH Formula-E Team):
"We're very excited about teaming up with DS Automobiles. DS has extensive experience in Formula E having been a championship manufacturer since Season Two and finishing within the top three each season. We've had some brilliant battles on track this season with DS and we can't wait to combine the wealth of experience and expertise of arguably two of the best teams in the paddock, as TECHEETAH become a manufacturer team for the first time."
We are extremely happy to announce that we are partnering with @DS_Official from Season Five onwards in the @FIAFormulaE championship. Full details will follow on the 1 Oct but until then, join us in welcoming DS to the TECHEETAH family ?⚡ #PowerFocusBalance // #FormulaE pic.twitter.com/T3NkahhXjQ

— TECHEETAH (@TecheetahFE) July 23, 2018