Five Ferrari engines made the cut into Q3 during qualifying for the British Grand prix, when Scuderia Ferrari confirmed the solid performance already seen on Friday. Sebastian Vettel took the second position on tomorrow's grid with Kimi Raikkonen immediately behind him in third. The first three drivers are all within less than a tenth of a second. Vettel's result came under difficult circumstances, as he had to fight a neck problem which had troubled him since this morning in FP3.
"Today the gap to [Lewis] Hamilton was only less than half a tenth, so my lap was almost the same as his. I was happy with my first attempt in Q3, but then on my last run, I lost a lot of time on the straight. I don't know why it happened, otherwise pole would have been there. However, tomorrow we should be ok in the race. Also, the pain in my neck was not nice today, but it should be gone by tomorrow. Even if we couldn't beat Mercedes today for pole, we made big steps forward as a team, so I wish to congratulate the whole Scuderia because everybody, on track and at home, has done their best. The car is working well and we are faster than last year", Vettel said.
VETTEL: "I seemed to lose a lot on the straights… It was very close, but it gives us a good chance for tomorrow" #BritishGP ?? #F1 pic.twitter.com/Sa84w6nVKW

— Formula 1 (@F1) July 7, 2018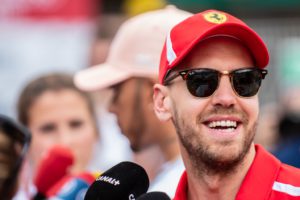 The pain in my neck was not nice, but it should be gone by tomorrow, Vettel says
Raikkonen explained that he locked the front wheel on his last run in Q3.
"I definitely lost some time there. It's difficult to get the perfect lap together, for sure there's always room to improve, but this is what we have got today. So far it's been pretty ok with the car and the set-up and things have been running smoothly; let's hope that tomorrow is an even better day. Third position is not ideal but not too bad, either. It's impossible to know if the hot conditions will help us; yesterday we did some long runs and after that, we had a rough idea, but on Sunday it's a different story and the conditions might be slightly different. Tomorrow we'll do our best and see where we end up. It's going to be a long race and it will be quite tricky for the tires. We'll try to make a good start and then make the right decisions", the Finn added.