It is now 25 years since 'Flying Finn' Juha Kankkunen and his Welsh co-driver Nicky Grist won what is still remembered as one of the toughest and most challenging Rally GBs in the famous event's long-running history.
To mark the silver anniversary of that snowy and icy victory, a quarter of a century on Kankkunen and Grist will be honoured as the official 'Rally Legends' of this autumn's Dayinsure Wales Rally GB (4-7 October). Both will be present throughout the four-day FIA World Championship event. The will assist with ceremonial duties, sign autographs and share their incredible memories with fans.
Most evocatively, perhaps, Kankkunen and Grist will reunite in the cockpit of a Toyota Celica GT-Four. It is similar to the car in which they won back in 1993. They will lead a special Sunday morning parade of historic rally cars through the closed roads of Llandudno. The parade will be the perfect curtain-raiser to the rally's street stage finale.
Between the two of them, Kankkunen and Grist won no fewer than 44 rounds of the FIA World Rally Championship
But few were more challenging and deserved than their hard-earned success on the 1993 Network Q RAC Rally.
Held late in November, that year's gruelling event was based in Birmingham with overnight stops in Lancaster and Gateshead. As tradition then dictated, the action kicked off on Sunday with a succession of spectator stages. They were set at race circuits and stately homes throughout central England. The route then ventured out into Wales, the Lake District, the Scottish Borders and Yorkshire Moors before the battle-weary survivors returned to Birmingham late on Wednesday afternoon.
There was nothing abnormal about a nationwide route, which included 35 speed tests totalling 340 miles of against-the-clock competition. But the extreme wintry weather ensured the 1993 RAC Rally would go down in the history books as one of the most daunting and demanding ever.
"They were the toughest conditions I have ever driven on in the UK," recalled Kankkunen who had won the RAC Rally twice previously in 1987 and 1991. "Driving on frozen ice roads without the spikes we used in winter rallies like Sweden made it very, very difficult. But we had a great event."
"It was absolutely treacherous," echoed Grist. "There was a reasonable amount of grip on the snow but, without studded tyres, those icy, frozen forest tracks were as hazardous as they come. Juha, though, was such a laid back character, brimming with natural talent – he took everything in his stride and, aside from getting away with one slight indiscretion in Yorkshire, it was plain sailing."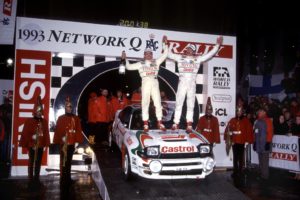 Kankkunen, too, was all the more relaxed
He had already won his then record fourth World Championship crown before arriving in the UK.
Grist, though, had missed out on the title. He had only joined up with the Finn mid-way through the season. The reason was that regular co-driver Juha Piironen had suffered a brain haemorrhage on the eve of the Argentina Rally.
"The championship was already won but Juha really wanted to give me a first win on home soil – 'Boyo, we will win this for you' he promised before the start," explained Grist who won again four years later, this time alongside Colin McRae in a Subaru Impreza. "To win at home is always very special but it was all the sweeter in 1993 as it was my first and the conditions had been just so treacherous throughout."
Now, 25 years on, the memories are all rushing back
Both Grist and Kankkunen are thrilled that they will be sharing their amazing recollections with rally fans here in Britain.
"It will be a pleasure for me to come back to Wales again with Nicky; I'm looking forward to four days of fun and catching up with old friends," confirmed the tall, blond Finn who's now approaching his 60th birthday.
"I'm really looking forward to getting back into the Toyota with Juha and whizzing around the street stage in Llandudno," grinned Grist. "In fact, the more I think about it, the more I'm excited about the whole event."
Grist now owns the GT-Four which they will be sharing for the parade. Poignantly, it's the very car in which he and Kankkunen won their final rally together in Portugal early the following season.
Juha Kankkunen and his Welsh co-driver Nicky Grist will be the Dayinsure Wales Rally GB Legends this October.

For tickets to the 2018 event head to https://t.co/FR6UCpbSCM

We hope there wont be any snow on the 4-7 October! ?#WRGB #WRC pic.twitter.com/0DN6iAGxz5

— Wales Rally GB (@WalesRallyGB) June 27, 2018