7 minutes and 57.148 seconds – Volkswagen set a new best time in the most impressive manner at the Pikes Peak International Hill Climb, making a bold statement for electromobility. At the wheel of the fully-electric I.D. R Pikes Peak, Romain Dumas conquered the competition powered by conventional drive technology and improved on the 2013 record set by Sébastien Loeb by 16.730 seconds.
Romain Dumas, how did you feel that the race went?
"That was an unbelievable race. I have been trying to get under eight minutes for years. Now it has finally worked out. I found my rhythm fast and my first sector was nearly perfect. I had some fog in the second section. That made the turns very slippery. I didn't want to take too many risks and lost a few seconds there. Thankfully, the sun came back out in the third sector and I was able to go on the attack again. After the last hairpin bend, I spoke to the car and said 'come on, only 500 metres to go'."
?? It's coming home, it's coming home. ?? The trophy's coming home … #PPIHC @RomainDumas #KingsOfTheMountain #ChargedToThePeak #EnergizedToTheMax #7m57 #SevenFiftySeven pic.twitter.com/XdVBWtG8i3

— VolkswagenMotorsport (@volkswagenms) June 25, 2018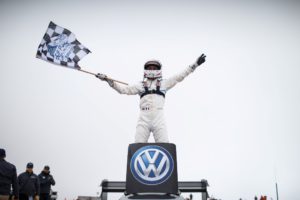 You had already won at Pikes Peak three times and celebrated countless successes in endurance racing, including Le Mans. Where does this win fit in?
"It's right up there. Anyone who knows me knows what Pikes Peak means to me. When I was six years old, I said that I wanted to drive here one day. Now I have won it four times. That is always something special but this year it was even more so, as Volkswagen has developed a completely new racing car and it was also my first time in a fully-electric car."
What do you think of working for and with Volkswagen?
"I am very impressed. Developing a car like the I.D. R Pikes Peak in just eight months is a real feat of engineering. Congratulations! Many thanks are also due to the mechanics for their hard work, especially in the last three weeks, and for making this success happen. The lads have earned the chance to celebrate properly and then to get plenty of sleep. And in the next few weeks, what I would like to do more than anything is to sleep. I feel very tired, but very, very happy."
Bravo à nos amis de @volkswagenms pour ce nouveau record à Pikes Peak ??

Impressionnant‼️

Vous entendez au loin❓Nos mécaniciens sont déjà en train de faire chauffer la @Peugeot 208 T16 Pikes Peak⚡️⚡️⚡️

Rendez-vous le 23 septembre à la Montée des Légendes‼️ pic.twitter.com/CSlYvPyMod

— Sébastien Loeb Racing (@LoebRacing) June 24, 2018