If the Haas VF-18s of Romain Grosjean and Kevin Magnussen could sport a bumper sticker in the Canadian Grand Prix June 10 at Circuit Gilles Villeneuve in Montreal, it might read "Happiness is Monaco in my rearview mirror."
Grosjean and Magnussen struggled for grip and pace at the historic street circuit on the shore of the French Riviera, starting 18th and 19th, respectively, before Magnussen finished 13th and Grosjean placed 15th. The performance bucked the trend Haas F1 Team has displayed this season, with the American outfit consistently showing speed and vying for best-of-the-rest status behind the Big Three teams of Scuderia Ferrari, Mercedes and Red Bull.
With many of its Formula One counterparts having brought updates to its racecars in the round before Monaco – the Spanish Grand Prix – Haas F1 Team instead opted for Montreal.
Haas F1 Team expects a return to form in Montreal, with Circuit Gilles Villeneuve being the debut of the organization's first round of major updates. A new front wing and floor will join a revised bargeboard area on the Haas VF-18s of Grosjean and Magnussen, and both drivers were already eyeing the potential these parts could have before they turned a single lap at Monaco.
Team principal Guenther Steiner previews the Canadian Grand prix.
The Canadian Grand Prix marks the first race where Haas F1 Team is bringing significant updates to its racecars. Where have you chosen to develop and what are you looking to achieve with these updates?
"We've got quite significant changes – front wing, floor, and all the bargeboard area – we've made those updates. Obviously, their aim is to go faster, to gain us speed. A lot of people brought their upgrades to Spain. We decided to bring them to Canada to have a little bit more time because we're still a small team and cannot react as quickly as the big ones."
In addition to new updates to the car in Canada, you have a relatively new engine from Ferrari. You trialled this engine in Monaco – did it do what you wanted it to as you prepare for a more power-sensitive track in Circuit Gilles Villeneuve?
"The upgrades in the engines are small because they are so highly developed. To find big gains is very difficult but, for sure, every time Ferrari gives us an upgrade, it is for a good reason, as it has more power."
With teams only allowed to use three engines throughout the course of this 21-race season, can you explain how you're cycling these engines so that you get the most out of them without wearing them out too quickly?
"You introduce your first replacement engine, basically engine number two, at about this point in the season. You use engine number one for FP1 and FP2, but not for FP3, as you put the newest engine in on Saturday morning for FP3, then for qualifying and the race. Right now, we are up to plan with our engine. If it all goes well, we should get to the end of the season without having to use a fourth engine and get a grid penalty."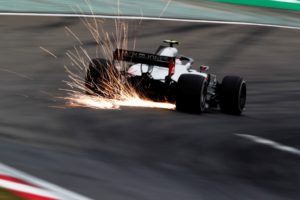 Last year, teams could use four engines in a season and, on top of that, there were only 20 races compared to this year's slate of 21 races. How has the reduced number of engines you can use and the increase in races affected your preparation when it comes to engine management?
"The engine management is done by Ferrari. They've worked hard on it so the car can do the mileage, and so that we can do the mileage with three engines over the year."
Another relatively new wrinkle for Canada is the Pink hypersoft tire. You got a lot of experience with it at its debut in Monaco. Did it perform as you expected it, or did it present some new challenges you hadn't seen before?
"It performs like it should. It's a proper qualifying tire, and it seems to do ok in the race for a reduced amount of laps."
It was warm in Monaco, but that's not always the case in Montreal. How does the outside temperature affect the Pink hypersoft?
"In theory, the hypersoft should last longer because of the reduced temperature, but we need to see how abrasive the track is and what we can get out of the tire."
We've talked tires and engines this year, but one thing we haven't talked much about this year is brakes. That's a good thing, isn't it? After the team's travails with brakes the last two years, what allowed you to find the right package for this year?
Bird's-eye views. ??#HaasF1 pic.twitter.com/dHn6UUdRx0

— Haas F1 Team (@HaasF1Team) June 1, 2018
"Brakes have not been a talking point. I think our guys did a good job introducing a different supplier for our brakes this year. We haven't had issues yet, and I hope it remains like this."
Canada is known as the hardest-braking grand prix of the year. What do you need to make the most of your car's braking capability, and how do your drivers manage their brakes for the entire, 70-lap race?
"You use a brake which has a longer life. Maybe the braking is not as good as it is normally, but you need the additional life on it so you can finish the race. You also have to work on the cooling so you don't overheat them. If you overheat them, then you cannot get to the end."
A good brake package gives a driver confidence. Has getting a handle on the team's brake package allowed Grosjean and Magnussen to push this year's car harder, allowing for the speed the team has shown this season?
"Absolutely. More confidence means more speed. A good brake package is a consistent one – you always know what it's going to do. We have that this year, and I'm sure if you ask the drivers, they're happy with it because they know what they've got when they're braking for a corner."
Cooling the brakes is key, but where do you find that balance between forcing air into the brake ducts to keep them cool and massaging the airflow over the car to create downforce?
"That is the juggling act, but we have quite a few options in the cooling package of the brakes to achieve that balance."
It won't be until mid-October when Haas F1 Team has a home race with the United States Grand Prix at Circuit of the Americas in Austin, Texas. But considering the geographic proximity of Montreal to the U.S., do you view the Canadian Grand Prix as a quasi-home race?
"Absolutely. Montreal is actually a little bit closer than Austin to our headquarters in Kannapolis. It's our shortest travel to a race, and I love that."