Frenchman Cyril Despres is looking forward to making his Baja 500 four-wheel debut after experiencing the madcap 500-mile day race on two wheels back in 2007. The five-time Dakar Rally motorbike champion and two-time Silk Way Rally car winner will take on a strong field in a Bryce Menzies-prepared Trophy Truck on the perilous Mexican tracks around Ensenada. Here is what the 44-year-old had to say about his adventure.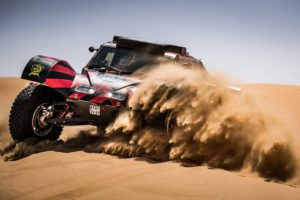 Besides from your trip to the Baja 500 back in 2007, what other experience have you had of this kind of racing?
Earlier this year I was out in the States at the Mint 400 and the passion they have for the race blew me away. There were huge crowds there to watch the racing and you got the sense that these people really live for this sport.
As well as being there at the start and finish I was able to follow the race in the Team Menzies helicopter. What struck me was the speed these guys are racing at. It was moving a lot quicker than you're average cross-country rally. The driving style required is ultra aggressive.
Throughout my career, I've always been interested in trying out different bikes, cars and buggies because that is a great way to learn and improve.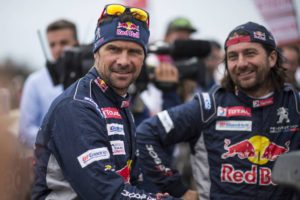 What have you identified as the similarities and differences between the Dakar and Baja racing?
I've talked several times with Bryce about the Baja style of racing. One thing that it definitely has in common with the Dakar is the way it can get you hooked. At Baja races as well as at the Dakar you get people still showing up to race in their sixties and this shows you that it's a habit that some people just cannot kick.
The big difference between the Dakar and a race like the Baja 500 is how long it takes to complete. The Dakar lasts for 15 days whereas the Baja 500 is all wrapped up in one day. So it looks as though you have to be really quick from the first mile at the Baja 500 until the finish line.
The next major difference between rally-raid and Baja racing is the navigation. At the Dakar, we have a roadbook and we have to find our way out there. The Baja 500 is different because you can recce the course in days leading up to the race. You can use this time to learn the parts of course where you can push and where you need to be cautious.
In terms of a running race, I would say the Dakar is a full 42km marathon and the Baja 500 is the 110m hurdles. You need to go faster at the Baja 500, but there are still plenty of hazards that can trip you up.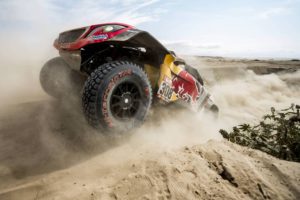 Why does the Baja 500 appeal to you?
A big reason I have targeted the Baja 500 is because it's a race that I already have experienced before, even if that time it was on a bike and this time I'll be racing on four wheels. Back in 2007, I travelled out to Mexico with KTM to race the Baja 500 and it was great to experience something new after all the time I spent being involved with the Dakar.
I can't say right now how competitive I will be at this Baja 500. If you think about the challenges Bryce has had getting to grips with rally-raid racing then I think we can expect I will find it similar when trying to transition to Baja racing. I'm going to up against some really experienced guys who eat, drink and sleep Baja for 52 weeks a year. These guys race the Baja 250, 500 and 1000. I'm going there and racing a truck for the first time so I'm going to have to learn quickly that's for sure.
I want to be able to perform at a respectable level but I have my eyes open. This will be my first shot at it so I'm just going to stay humble. My first aim is to cross the finish line and if I can do that then we'll see what position I've taken.
Thanks to Team Menzies for giving me the opportunity to be there driving their truck. Bryce is unfortunately injured right now. I'm very fortunate to have this team with their wealth of experience there to help me out.
Live from Mexico ?? And a special thanks to Menzies Motorsports team!@BryceMenzies7 @redbull @redbullmotors @KMCWheels @BFGoodrichTires @BajaDesigns @foxracingshox #baja500 pic.twitter.com/rgpalay16N

— cyrildespres (@cyrildespres) May 28, 2018