EKS Audi Sport experienced some turbulent races with ups and downs in round three of the FIA World Rallycross Championship (World RX) in Belgium. Mattias Ekström, who was leading the intermediate classification after qualifying at the challenging Circuit Jules Tacheny in the 580-hp Audi S1 EKS RX quattro, finished fourth, just barely missing the podium. His teammate, Andreas Bakkerud, on delivering a strong fight made it into the final as well, placing sixth.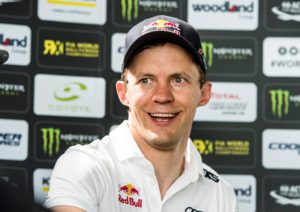 "Mettet was not wonderful but pretty good. I took 23 important points home, only Sébastien Loeb scored more points here. We're happy with our pace on track but need to improve our starts before the next race at Silverstone," said Mattias Ekström summarizing the race in Belgium.
All the questions you wanted to ask, but never got the chance. @mattiasekstroem & @AndreasBakkerud in a "no limits" interview with @Mollysport ! #EKSRX #AudiSport #WorldRX https://t.co/lPZvkiykg2

— EKS (@EKSRX) May 12, 2018
The Audi drivers experienced ups and downs as early as in the four qualifying races.
In heat one, Mattias Ekström lost time in a collision with Sébastien Loeb
Afterwards, he fought back, winning Q2 and Q4 and securing overall victory in qualifying ahead of Sébastien Loeb in a Peugeot. In the first semi-final, Ekström, following a fair to middling start, ended up in the commotion but in third position made it into the final. There he started from the last row, made up one position and finished the race in fourth place. "Driving the Audi S1 EKS RX quattro was tremendous fun," said Ekström. "Now I'm looking forward to Silverstone where we plan to fight back in the battle for the podium."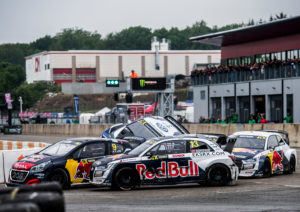 Following difficult qualifying sessions, his teammate, Andreas Bakkerud, captured a place in the semi-finals as well
Due to jump-starting, the Norwegian had to drive the Joker Lap twice but benefited from duels between rivals and with a strong fight in second position secured a place in the final of the six top drivers which he finished in last position. "This was one of the toughest race weekends in my career. I wasn't able to deliver the type of performances I'd been planning on. But I'm proud of my fighting spirit and will to persevere," said Bakkerud. "In the end, I went for broke once more, but in the commotion in turn one was slightly bumped and subsequently touched a tire wall. Now I'm looking forward to the coming races in the United Kingdom, Norway and Sweden which are some of my favourite events."
This is what I call heaven #Snakkerud pic.twitter.com/EDRNQvXMJ6

— Andreas Bakkerud (@AndreasBakkerud) May 13, 2018