LCR Honda rider Cal Crutchlow topped the timesheets on day one of the Spanish Grand prix at Jerez. Crutchlow went eighth quickest in the FP1 session, but the LCR man shaved almost a second of his morning time to end the opening day on top of the pile – just ahead of HRC factory colleague Dani Pedrosa at his home circuit.
Here's a look at the times at the end of the #MotoGP action on day one#SpanishGP pic.twitter.com/DQMu7LTlPJ

— MotoGP™??? (@MotoGP) May 4, 2018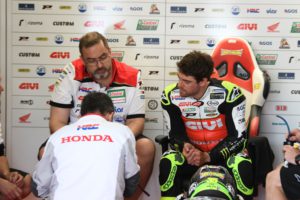 While admitting there is still much hard work ahead tomorrow, Crutchlow is now targeting a place on the front row of the grid for Sunday's race
"Yeah, the bike feels good at the minute. The track is different to when I tested here in November, it was cold and very, very grippy then, now it's quite greasy. I seem to be able to do the lap times quite well, the tyres are holding up well – the soft and medium anyway, on the rear – which we'll use tomorrow. But we also need to try the hard as I think that will be the race tyre. But yeah, we're confident enough with the bike, it's going well", Crutchlow said.
"We went through some different settings, it didn't feel great with the wings on the bike which I tried for the first time this year. It was quite windy out there and it was not reacting very well to that and we've had no time on the wings so the set up wasn't great. But I feel good, it's nice to be on top again. Now we have to work with the team tonight and then go into tomorrow with positivity and hopefully get on the front row."
#MotoGP FP2 ?@calcrutchlow heads @26_DaniPedrosa at the close of play on Friday, with @JohannZarco1 rounding out the top 3#SpanishGP pic.twitter.com/l1rP9ZEKHJ

— MotoGP™??? (@MotoGP) May 4, 2018
Pedrosa greatly improved his speed and pace from the morning FP1 session, which he had finished in 14th position
"This morning I started a bit slowly to test the condition of my hand, and from there I went, step by step, improving over the day, especially in the second session, when I was able to push a bit more. The positive aspect is that I felt better than at the last race, though I'm not yet 100% fit. I have more range of motion, and that allows me to move on the bike better in order to adopt a better position in the corners. What I still lack is full strength, and that still causes me to struggle and prevents me from riding exactly as I wish. Anyway, we did a good FP2 session and we know where we can improve further. I hope we'll be able to do that tomorrow", he explained.
Zarco was third, only just 0.091 seconds behind the top
"I'm pretty happy to be competitive without a test here. FP1 was quite ok and in FP2 we were working with the tyres. My feeling was quite good and every time we tried something on the bike, we were improving, which makes me truly happy. Now we want to keep working that good to feel even more comfortable and play with the bike. I hope, that we'll have good weather tomorrow, so we can improve and prepare the race as well as possible", the Yamaha Tech 3 rider explained.
Here's everything you need to know about the @Michelin_Sport tyre allocation for #MotoGP at the #SpanishGP ?? pic.twitter.com/TiF60yojKe

— MotoGP™??? (@MotoGP) May 4, 2018