Prince Bernhard van Oranje is the first wildcard for WTCR Race of Netherlands. The Dutch royal family member is an experienced racer and owner of Circuit Zandvoort, which hosts the WTCR – FIA World Touring Car Cup presented by OSCARO from 19-21 May.
The prince, 48, will drive a Bas Koeten Racing Audi RS 3 LMS in the fourth event of the WTCR OSCARO season, which is part of the Jumbo Racedagen motorsport festival featuring demonstrations by Dutch Red Bull Formula One driver Max Verstappen.
"It is unique to participate in a World Cup event against eight former world champions," said Prince Bernhard van Oranje. "It's ultra-close racing and we have live coverage on TV and web throughout the event. With more than 100,000 fans it's going to be a unique experience."
Bas Koeten Racing exists for already 15 years. It operates at upwards of 60 circuit races and rallies each season with a fleet of more than 20 mainly touring cars. Based in Westwoud, Netherlands, the team has tackled several TCR International races in the past with some success.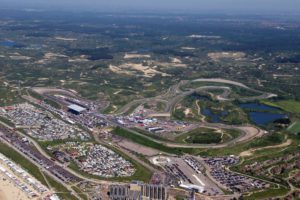 "It's a special opportunity for our team as he's not only the Prince of Holland but he's also the owner of Circuit Zandvoort," said Koeten. "He has experience in many racing classes and obviously knows the circuit very well. We don't expect to go for the podium because we know how high the level of the WTCR is with the fastest touring car drivers in the field. But he certainly won't be 10 seconds behind the last guy."
Prince Bernhard van Oranje's car will sport an all-orange colour scheme, his country's national identity. Koeten continued: "People like to see the orange colours and they will like to see him in the paddock at Zandvoort because the Dutch royal family is well known and popular in Holland."
Prince Bernhard van Oranje is the first wildcard for WTCR Race of Netherlands
Top Dutch WTCR driver Tom Coronel from Boutsen Ginion Racing has worked with Prince Bernhard van Orange over the years and holds him in high regard.
"I've been giving some lessons to Bernhard," said Coronel. "The first time he was on a podium was with me in a long-distance race. A few years ago I promised he could drive my race car and I did that at the beginning of this season. I did 10 laps in my Honda Civic Type R TCR myself then I put him in the car. The team was quite surprised but I said 'don't worry, he knows what he's doing, he likes motor racing, he knows the track and has been a race driver for 15 years'. It's a unique and cool thing for us to have him in our championship and I want him to enjoy the ride."
François Ribeiro, Head of Eurosport Events, the WTCR promoter, said: "It's great to welcome Prince Bernhard van Oranje into the WTCR family for what will be one of the biggest events of the season with more than 100,000 fans expected. With Max Verstappen demonstrating his Red Bull Formula One car and three WTCR races to look forward to, the Jumbo Racedagen promises to be a great occasion. And to have a member of the Dutch royal family on the grid is simply fantastic."
Bas Koeten Racing will run a second Audi at WTCR Race of Netherlands. The announcement of its other driver will be soon.