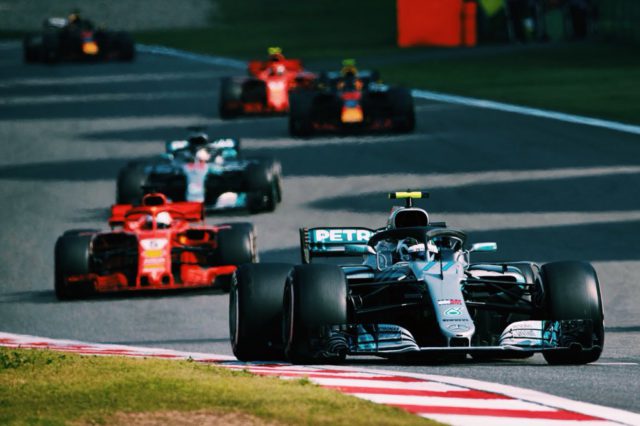 Lewis Hamilton admitted he underperformed throughout the Chinese Grand Prix weekend after having to settle for fourth position.
Many expected Mercedes return to the front in China but the world champions struggled for pace. They lost the pole to Ferrari. Hamilton was out-qualified by teammate Valtteri Bottas and then lost out to Red Bull's Max Verstappen at the start.
Mercedes missed the opportunity to mirror Red Bull's race-winning strategy at the Safety Car period, meaning Ricciardo passed Hamilton in the closing stages.
"I was in no man's land today," Hamilton said after the race. "I had no pace. Just trying to hold on for whatever I had."
Mercedes has failed to win any of the first three races of this season, its longest victory drought since the introduction of the V6 turbo engines in 2014.
Ricciardo win means Red Bull and Ferrari have both claimed a win before Mercedes in 2018. And Hamilton knows he will need to improve to stay in championship contention.
"It's a tough battle ahead of us, particularly on my side, I would say my side, but also us as a team. We've been underperforming. Yesterday and today have been a disaster on my side. So I've got to try and rectify that and try and get back into normal performance mode. Otherwise we will lose more valuable points. I'm thankful a couple of incidents that happened ahead today kept us in the battle."
His teammate Valtteri Bottas believes Mercedes have "deserved" victory at the Chinese Grand Prix had it not been for the unfortunate timing of the safety car mid-race.
Bottas, who started third on the grid, elevated himself into second-place on the opening lap. He found himself in a two-way scrap with race leader Sebastian Vettel for first position during the early phase.
Mercedes pitted Bottas earlier than the four-time world champion to try and undercut the Ferrari, the Italian outfit crucially left Vettel out a few laps longer, which allowed the Finn to take over the lead of the grand prix thanks to a series of quick outlaps.
However, a safety car for debris at Turn 14 halted Bottas' chances to control the pace at the front and was out too late for Mercedes to pit him for fresh tyres.
Red Bull were able to make the most of the safety car period to double-stack both of its drivers. With Daniel Ricciardo launching an assault on Bottas for the lead at Turn 6 heading into the final stages of the race – leaving the Mercedes driver 'disappointed' to see victory slip out of his grasp.